School Report makes radio history in Londonderry
26 March 2013

From the section

Home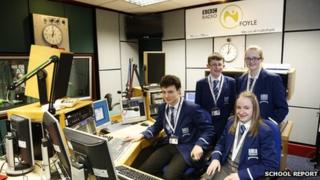 BBC News School Report made history for the seventh annual News Day by anchoring its radio show from outside London for the first time.
School Report LIVE's main radio output came from the studios of BBC Radio Foyle in Londonderry and featured live and recorded items.
Among the on the day content was a chat between students in Derry, which is the UK City of Culture this year, and others in Liverpool, which was the European City of Culture in 2008.
There was also a half-hour news special featuring School Reporters from Derry schools St Columb's College, Lisneal College and St Cecilia's College.
Among the items covered in the show were an interview with the Northern Ireland Education Minister John O'Dowd and a report on Scottish Highland Dancing entering the PE curriculum at one local school.
There was also a piece with an award-winning author who wants people to spend their time reading books and not using their phones as well as a report on how news reporters are telling their stories through art.
The team also had some packages prepared in the run-up to News Day.
Frank Cottrell Boyce, who wrote the opening ceremony for last year's London Olympic Games, has now written The Return of Colmcille for the City of Culture celebrations. It is a large-scale public event celebrating the Saint and the city and its people.
He answered School Reporters' questions about his life and career for the project.
Radio 1 DJ Gemma Cairney was another big name to agree to an interview with School Report and she talked about how excited she was that the station's Big Weekend would be coming to Derry in May.
And when the announcement of the venue for the Big Weekend was made, School Reporters were there and reported on the day.