Scottish independence: School survey reveals young people's views
27 March 2013

From the section

Home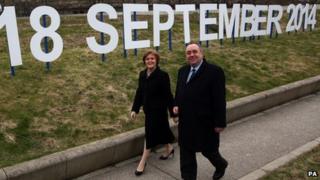 16 and 17-year-olds are likely to be eligible to vote in the 2014 Scottish Independence Referendum if the bill is passed and implemented.
A survey was conducted of over 400 pupils from two schools in Edinburgh to find out their views about the Scottish independence referendum and specifically the issue of the voting age being lowered from 18 to 16.
Our survey revealed that 83% of those surveyed would vote against independence whereas 6% would vote for Scotland to separate from the Union, while 11% of pupils surveyed admitted they hadn't thought about it.
58% agreed that 16-year-olds should be able to vote, while 29% said no, and rest were undecided. 53% believed that they had the same political views as their parents with the 10% disagreeing and the other 37% unsure.
We surveyed The Mary Erskine School for Girls and Stewarts Melville College for Boys in Edinburgh. The statistics showed that 88% of girls and an equal proportion of boys felt that Scottish independence would affect their life.
The vote is due to take place in autumn 2014, with the exact date of 18 September being announced by First Minister Alex Salmond on News Day!
We interviewed the leader of the Better Together campaign, the Right Honourable Alistair Darling MP and Gail Lythgoe, Executive Assistant for the Yes Scotland campaign to hear their views.
When asked, both campaign representatives agreed that the voting age should be lowered and both thought that teenagers are best informed through social media.
Mr Darling added that "if 16-year-olds are allowed to vote in the referendum, they should be allowed to vote in every other election".
Mr Darling outlined that the UK currently "have the best of both worlds" and that if the Union separated "we would all be the poorer frankly".
On the other hand, Ms Lythgoe highlighted that Scotland "contribute more into the UK economy than we get back" and that Scottish independence would create "huge advantages and opportunities" for Scotland.
Overall, Ms Lythgoe told us that "people love Scots, they don't necessarily feel the same way about England" and that Scotland can be "a positive force on the international stage" for a reason to go independent.
Mr Darling voiced that Scottish people are "fiercely proud of being Scottish, we're also proud of being British. We don't want to have to choose between the two."
For Scotland's young voters, Parliament's decision awaits...