Superheroes perform Candy Dance for Comic Relief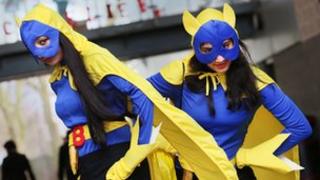 Over a thousand west London 'superheroes' have attempted to break a dance world record for Comic Relief.
Hundreds of students and staff from Brentside School got together in the playground on Friday 15 March to break the world record for the most people doing The Candy Dance, made famous by US 1980s funk group Cameo.
The students dressed as superheroes and all the staff had to squeeze into school uniform for the day.
English teacher Sophie Baker said it was one of Brentside's best fundraising events ever.
"We raised around £2,500 and are still counting," she said. "The energy was brilliant, and the students loved humiliating the staff!"
School Reporter Lara agreed. "It was really, really fun - and great that Comic Relief brought us together for such a good cause."
She said her favourite part of the event was telling off the teachers for failing to tuck in their shirts or do up their top buttons.
The dance event was part of an action-packed fundraising day that included sponsored silences, a Brent Factor talent competition and a teachers versus teachers basketball match.
Now the school is waiting to hear if their application to the Guinness Book of World Records for the most people doing the Candy Dance has been a success.
Comic Relief raised a record £75m this year.