The policeman who has gone back to school
21 March 2013

From the section

Home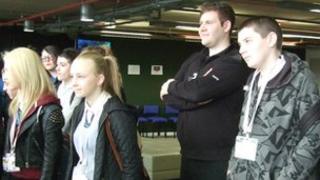 Pupils at Knightswood Secondary in Glasgow have made a film about the full-time policeman stationed at their school.
PC Stephen Kanally was brought in by the head teacher at the beginning of the year to "break down barriers" between students and the police, and the experiment has proved to be a roaring success.
Teacher Ms Oates, who supervised the School Report team, was keen to stress there had been no major problems at the school which necessitated the presence of an officer.
She told the BBC: "The head teacher had a policeman at her previous school and found him to be a very positive influence on the youngsters.
"There was no big incident, it was just a good way of building relationships between pupils and the police.
"He's been quite a familiar face around the school and even came with us on a trip to the BBC Scotland headquarters in Glasgow. "
PC Kanally works at the school from 8am - 4pm and insists on being called by his first name - telling School Reporters Amy and Graham: "I'm here to break down barriers."
Ms Oates added: "We didn't want the kids to see him as the enemy and he seems to have been a very positive influence on them."