Students escape injury in fatal Somerset train crash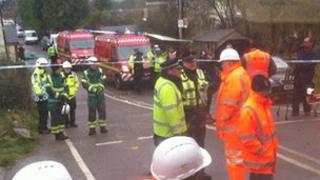 BBC News School Reporters from Devon have escaped injury when travelling on a train involved in a fatal crash in Somerset on Thursday morning.
The incident happened at about 06:30 GMT on the line between Taunton and Castle Cary when the train hit a car on a level crossing near Athelney.
One person died but Network Rail and First Great Western said none of the 37 train passengers was injured.
It has been a harrowing and emotional morning for the teenage students who had been heading to the Radio 1 studios in London and were preparing on the train for the BBC News School Report project when the crash occurred.
School Reporter Denis, aged 15, said: "We were talking through some questions on the train to Radio 1, we thought we could smell petrol and we heard a loud bang."
Students Emma, 11, Phoebe, 12, Emma, 13, Somin, 15, Fraser, 15, and Denis, along with three members of staff accompanying them, were transferred to another train and are due to be in London's Paddington Station at around 14:30 GMT.
They are currently running about five hours behind schedule and are aiming to be at London's Radio 1 studios in time to conduct a number of interviews for School Report.
The affected service was the 05:46 GMT from Exeter St Davids to Paddington, London.
Network Rail said the train was not derailed.
More pictures can be found on the Isca College of Media Arts blog.
Read the BBC Somerset news story for a full update on the crash.