School Report takes over Woman's Hour
21 March 2013

From the section

Home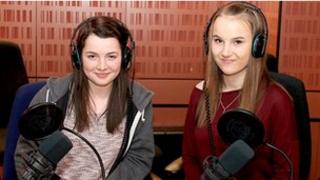 School Report took over BBC Radio 4's Woman's Hour on Thursday as regular host Jenni Murray was joined by co-presenters Lauren and Holly from Bartley Green School, Birmingham.
Lauren and Holly began by presenting a feature on a subject very close to their hearts: bus safety. Their school is just a few miles from where 16-year-old Christina Edkins was stabbed to death on a bus while on her way to school on 7 March.
Kerry Blakeman, Chief Inspector of West Midlands Police, underlined his force's dedication to ensuring people's safety on public transport, adding that there was a dedicated team in place. Blakeman offered Lauren and Holly the chance to go on a patrol with local officers.
"I'm really going to take him up on that offer," said an enthusiastic Lauren.
The programme covered another personal issue when it heard an account of the effect of unemployment on families. Fourteen-year-old Verity's dad Tim was made redundant late last year, and the family have taken the decision to keep Verity fully informed of the situation.
Verity interviewed her dad, who said the hardest thing about being unemployed was "not knowing how long it's going to last." Verity managed to see the positives, though, and said it had been a "good life lesson" to learn to still enjoy life while spending less money.
The programme also featured an exclusive interview with two-time Paralympic gold medallist Hannah Cockroft on the legacy of the Olympic and Paralympic Games, and a look at the increase in offensive song lyrics.
A Woman's Hour regular feature is 'Cook The Perfect...' and on Thursday, Henry Dimbleby, co-founder of restaurant chain Leon, cooked his idea of a perfect school dinner - live on the show.
Lauren and Holly usually take a packed lunch to school (although they admitted that sometimes they didn't get round to eating the fruit!) but after tasting Dimbleby's chilli-con-carne packed with healthy vegetables, they said they might be tempted to choose school dinners in future.