Paralympian medallists inspire disability debate
21 March 2013

From the section

Home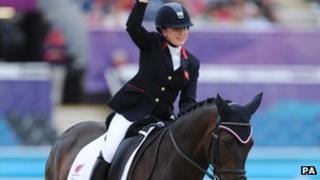 Double Paralympic gold medal winner Natasha Baker was the special guest on School Report Live this morning, with disability figuring strongly in students' projects this year.
The 23-year-old dressage star, who has no feeling in her legs, showed off her medals to the presenters but admitted they were quite heavy to carry around in her handbag.
She said: "Last year was my first Paralympic Games but I have been competing in dressage for 13 years.
"I was inspired by watching the Games in Sydney back in 2000. I was only 10 but I said to my parents 'I'm going to a Paralympic Games and I'm going to win a gold medal' - I never imagined it would happen at my first Paralympics - especially in London."
Natasha confessed it was "surreal" to be recognised by people and "unbelievably lucky" that The Queen personally awarded her the MBE recognising her achievements.
"That was extra special," she said. "She asked me what I'd been up to since the Games and whether I was looking forward to Rio."
Natasha was asked finally about what the London 2012 Games have done for attitudes to disability and she explained: "It was fantastic to get people inspired. It really put the Paralympics on the map - before it was all about the Olympics but now they are both even."
Fellow-Paralympics golden girl Hannah Cockroft was interviewed by School Reporters Ellie and Emily from Hipperholme and Lightcliffe Highschool in the athlete's home town of Halifax.
The double gold medallist enthused about the London 2012 Games, where she powered home to win the 100m and 200m T34 wheelchair races.
"I felt really numb when I won because I was trying to work out whether to laugh or cry and that's why on most of the pictures it looks as though my face is melting! I went from total nerves to complete elation in 18 seconds," she said.
The girls asked whether the Paralympics had left a legacy, with Hannah enthusing: "People are a lot more accepting of disability and disabled people being out there doing whatever they have to do.
"They don't feel like they have to stay indoors, so it's definitely given people a lot more independence and confidence and places are getting easier to access. Having schools with lifts now is fantastic."
Students from three other schools also discussed the Paralympics legacy, with Jamie from London's Phoenix School saying: "Watching people with disabilities win medals shows us that you can follow your dreams."
Over in Scotland's East Kilbride, Duncanrig Secondary School student and radio show host Rory got the surprise of his life when the Chris Evans Breakfast Show team recorded a jingle for him.
Rory attends the Communication Support Base at his school for pupils with Autistic Spectrum Disorders and has been presenting his own show on their radio station to improve his communication skills.
School Reporters discovered he was a massive Evans fan after interviewing teacher Mrs Holmes, who revealed: "Rory has based his own show on The Chris Evans show, calling it Rory's Breakfast Show."
The reporters duly contacted the BBC Radio 2 show and sound producer Chris Reay offered not only to send some of the jingles they use on the programme, but to make Rory his own customised jingle based on one that Evans uses.
School Report News Day this year coincides with World Down Syndrome Day and Sharon, mother of eight-year-old Ross, who attends the Sandelford Special School in Coleraine, Northern Ireland, said having a child with the condition had changed "my whole outlook on life".
Sharon admitted her biggest challenge was keeping Ross, who cannot walk and is fed through a tube, free from infection, but she added: "The biggest reward of having a child with DS is that they love you unconditionally. Ross is the most affectionate child I know and is so full of love for those around him and is definitely not afraid to show it!"