What was the impact and legacy of the Paralympic Games?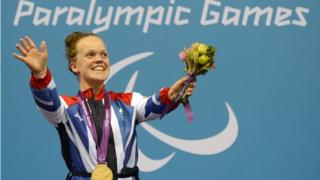 The London Paralympic Games seem a lifetime ago but barely six months have passed since GB's athletes smashed their target with 120 medals, including 34 golds.
Legacy was a key objective for the 2012 Games so have attitudes to disability sport changed that much? Has watching the likes of David Weir, Jonnie Peacock and Ellie Simmonds really inspired a new generation to get involved in sport?
School Reporters from two schools in London and one in Edinburgh give their thoughts on the highlights and effects that events in London last summer had on them.
What impact did the Paralympics have on you/your school?
"It has made us more aware of different Paralympic sports. Now we play boccia, Goalball and sit-down volleyball. I have always watched the Paralympics anyway and so I know more about it than than some people." George, 6th former, Joseph Clarke School, London
"The Paralympics really affected our school. More of us play sport now. It has also improved our confidence." Khadizha, Phoenix School, London
"It's good to see people with disabilities competing. Before I watched the Paralympics I thought that some sports might be too dangerous for them but they weren't. The Paralympics showed the world that disabled people have courage to step up and try things." Danny, Phoenix School
"It is inspiring for people with autism to see other people with disabilities doing well and achieving."Kieran, Phoenix School
"I'm happy that people are allowed to be part of the Paralympics and it shows people that are not disabled that disabled people can do things just as well as everybody else." Stephen, Royal Blind School, Edinburgh
What is your favourite moment from the London Games?
"When David Weir won the Paralympics marathon. He won three different stages in a wheelchair. Amazing." Ewan and George, 6th formers, Joseph Clarke School
"Ellie Simmonds makes me really happy. It's so good to see that a disabled person can win a gold medal." Danny, Phoenix School
"Watching people with disabilities win medals shows us that you can follow your dreams." Jamie, Phoenix School
Have the Paralympics changed attitudes towards disability?
"The Paralympics made an impression on everybody. It will inspire more people to do more sports." Taneisha, year 11, Joseph Clarke
"In a little way the Paralympics have changed our attitudes to life. We [young people with autism] are more confident and less angry [about how other people see us]."Anthony, Phoenix School
Will the Paralympics have a lasting legacy for young people?
"I think so because it showed how good a person can be if they have a goal, so young people could change their attitudes. I also think it will inspire more people to do sports like we do in our school now." Dominika, Year 11, Joseph Clarke
"The Paralympics was like a voice for people with autism. It was like our mascot to show that people with disabilities can join in the community in our own different ways." Kieran, Phoenix School
"The Paralympics showed us that we can do anything in our own way. For instance, I would have thought that playing football if you were blind would be impossible but he Paralympics proved it wasn't." Anthony, Phoenix School