Headlines and deadlines for School Report 2013
21 March 2013

From the section

Home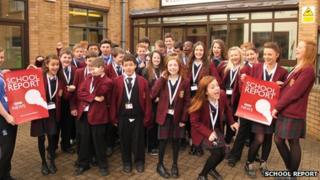 From punks to policemen, Boris to budgets, School Reporters have covered a huge range of stories on the project's seventh annual News Day.
More than 33,000 pupils from around the UK took part on the day, all working to the same 1400 GMT deadline as they covered the stories which mattered to them.
School Report LIVE broadcast from 0830 through to 1600 GMT on the Red Button and the School Report website, while a mammoth live text page also told the story of the day, from more than 1000 schools in the UK.
Highlights are difficult to pick out from such a stellar array of stories, but the School Report takeover of prestigious Radio 4 programme Woman's Hour was certainly among them as regular host Jenni Murray was joined by co-presenters Lauren and Holly from Bartley Green School, Birmingham.
School Reporters from Isca College of Media Arts in Exeter showed their ability to cope with a difficult and breaking story as they were caught up in a train accident in Exeter while on their way to London.
Education is always a hot topic where the project is concerned, and this year was no exception with young reporters covering several stories on the topic including Westminster Academy's report on the Education Select Committee's decision to work closely with School Report in the future.
The BBC's flagship 1 O'Clock and 6 O'Clock News bulletins featured a report fronted by correspondent Reeta Chakrabarti with School Reporters from Priory Ruskin Academy in Grantham, discussing the issue of school leaving age.
The 10th anniversary of the Iraq conflict has been in the headlines all week, and School Report was able to offer a poignant perspective with School Reporter Meagan, from Gloucester School in northern Germany, interviewing her father - the commanding officer of the Mercian Regiment - about his experience of serving there.
Sport was also in the headlines, with School Report's exclusive with Tottenham legend Ledley King Northumberland park high leading the BBC Sport website during the morning while NBA superstar Luol Deng revealed he was once asked to go for football trials with England.
School Report broke new ground with its first ever mosaic - a special online gallery of hundreds of photos sent in by participating schools which combined to make an image of the project's logo.
On the day the date for the Scottish referendum was announced, School Reporters from Duncanrig High School got in on the act, quizzing First Minister Alex Salmond about the issue.
Another of the big news stories of the day took place in Canterbury, with the enthronement of the new archbishop and School Reporters were on hand, inside and outside the cathedral to explain what was going on and what it meant.
BBC Asian Network broadcast for three hours from a Sikh school Guru Narak Sikh Academy, while Radio 4's World at One worked with Copland School in Wembley to help pupils challenge the government over its school rebuilding programme, with Schools Minister David Laws addressing pupils' concerns on the programme.
There are few subjects which escape the attention of School Reporters, with pupils from Ysgol Dyffryn Ogwen Bethesda in Gwynedd investigating the issue of - not to put too fine a point on it - dog poo!
Technology and teenagers often seem to go hand in hand, and School Report worked with the Magazine section of the BBC News website to produce a first-hand account from teens about whether their digital devices are depriving them of their sleep.
"We wanted young people to have the chance to tell us about stories that are really important to them and we also want to give them the chance to find out what makes news and how news gets to our screens and our airwaves," said School Report editor Helen Shreeve, speaking to BBC London.
The breadth and depth of the content produced by the thousands of pupils taking part certainly bears testimony to that.
School Report News Day 2013 in numbers: