Gymnast Cara aims for Glasgow Commonwealth Games glory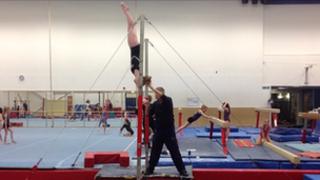 Cara Kennedy is a rapidly rising star in gymnastics and is a serious prospect for representing Scotland at the Commonwealth Games in 2014.
For BBC News School Report, the 15-year-old world junior champion from Paisley was quizzed by school-mate and fellow reporter Molly from Bellahouston Academy in Glasgow on her ambitions to compete in her home city next summer and some strange superstitions!
Q: Who do you compete for?
A: I took up gymnastics when I was four and now compete for the City of Glasgow Gymnastics Club and Scotland.
Q: When did you realise you were good at gymnastics?
A: I realised I had potential in this sport aged 11 when I won first place in the Scottish Championships.
Q: How did you feel when Glasgow won the right to host the Commonwealth Games in 2014?
A: I was only nine when I first heard the news that Glasgow would be host. I was overjoyed and have always wanted to compete at the Games.
Q: What would it mean competing in front of your home crowd?
A: It would give me loads more confidence knowing that everyone was behind me and not the other countries! It would hopefully bring out the best in me. It's such a dream to compete at the Games.
Q: What's your favourite and least favourite discipline?
A: My favourite is the vault because I always perform my best on that piece of apparatus. My least favourite discipline is the bars because I seem to struggle on this but I still always try my best.
Q: As a gymnast do you have to be careful with your diet?
A: I only watch what I eat six weeks before I'm competing and for the rest of the time I do try to stick to healthy eating!
Q: Do you have any superstitions?
A: I am very superstitious and get very funny about walking over drains. If I see three drains I must only walk over two!
One time I forgot and walked over three drains. Later on that day I broke a ligament in my ankle and wasn't able to train for two months. I also have lucky clips which I always wear when I'm competing.
Q: What's the plan for the build-up to the Games and the next few years?
A: I want to compete and come out with a good score and then hopefully I'll be considered for the Commonwealth Games. I'm not really thinking about the Olympics just yet!
I'm just busy training really hard right now. I won't find out until next year about qualifying for the Games. I'll need to get certain scores to be considered for our national team. I hope I have a good chance but it is an unpredictable sport.