Paula Radcliffe opens up to School Report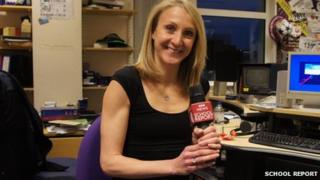 Paula Radcliffe is a long-distance running legend and now turning her hand to commentating at athletics events on the BBC.
The 39-year-old is a three-time winner of the New York and London Marathons and still holds the world record for her time of 2 hours 15 mins 25 seconds in the capital 10 years ago.
As part of BBC News School Report's '13 in 13' series of interviews, the mother of two reveals her thoughts about her sporting highlights, favourite indulgent foods and her most reckless moment at school.
13 in 13 - PAULA RADCLIFFE
Q: What's the best thing that has happened to you so far in 2013? Georgia, Oasis Academy Mayfield, Southampton
A: It has nothing to do with athletics! My daughter broke her leg after Christmas, so it was her coming out of the plaster and getting back to being able to run around normally and see that there was no ill effects.
Q: Where and when did you think you performed at your best? Our Lady's Convent High School, Hackney
A: When I ran the world record for the 2003 London Marathon. I had a really strong block of training going into it and everything came together really well on the day, so I was able to capitalise on that and take advantage of good conditions and give it my best.
Q: What is your favourite sport to watch? Redwood School, Rochdale
A: It's probably athletics. I like the fact that there are so many different disciplines, so many different things going on, you never stop learning about it and there are lots of things to look at and take in.
Q: If you went back in time to talk to yourself when you were 13 what would you say? Rebecca, St Andrews School, Bedford
A: I would say "just go on with what you are doing", because then I very much wanted to do athletics. It was what I enjoyed doing and what I felt I could be good at and so I would say "go with that, believe in your instincts, and just stop a little bit every once in a while and don't put too much pressure on yourself".
Q: If you could summarise your life in one word what would it be? Hamstead Hall Community School, Birmingham
A: This is really hard… erm... fun?
Q: What do you do in your spare time? Jeannie, Cullybackey High School, Northern Ireland
A: It's all very full at the moment. I don't have a lot of spare time because what I do have, I like to spend with the children mostly, or go out with my husband. I like cooking, I like reading, I like to be able to just go outside and spend time outside. Most of all it's just playing with the children and doing things with them.
Q: How much were Curly Wurlys when you were 13? Ryan, Alness Academy, Alness
A: I have no idea how much! Maybe 13 pence?
Q: What is your pet hate? Morgan, Bishopston Comprehensive School, Swansea
A: It's cheaters and people doping in sport.
Q: Who was your hero when you were growing up? Owen, aged 14, Roselyn House School, Lancashire
A: I didn't really have specific heroes - I looked up to people though. I remember looking up to Liz McColgan, Steve Cram, and Sebastian Coe when I'd seen them running. I also used to take little bits from people who weren't in the public so much. So, my grandma was a big idol for me, just because she was someone who taught me that you got out of life what you put in and still does, and that you have to fight for everything that you want in life and work towards it.
Q: What is your favourite food? Jack, Cullybackey High School, Northern Ireland
A: All food is my favourite food! This is hard because I do just enjoy different foods in general. I like to try foods typical to the region that I'm in, but I think chocolate would be the top one. A good dark chocolate.
Q: Which teacher do you most remember and why? Bartley Green School, Birmingham
A: I have to think about this… I think I would go with Mr Leith who is actually a teacher at my first primary school and is the man responsible for introducing me to athletics and for introducing me to the local athletics club.
Q: What was the most reckless thing you did in school? Andre, Gloucester Academy
A: It would have probably been something that I did without thinking too much and just went ahead and did it - I didn't do that very often. But it probably would've been in sport. I remember getting lost and leading the whole field wrong on a charity run that we were doing, but I wouldn't say that was particularly reckless!