Student Rory given jingle by Chris Evans Show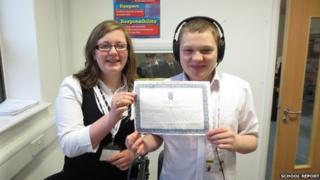 A student from Duncanrig Secondary School in East Kilbride, received a pleasant surprise when the sound department at BBC Radio 2 provided him with his own professionally produced radio jingle.
Student Rory attends the Communication Support Base at his school for pupils with Autistic Spectrum Disorders. Rory has been using the school's radio station to write and present his own show as a means of improving his communication skills.
The team responsible for the Chris Evans Breakfast Show created the jingle with the budding DJ in mind.
School Reporters interviewed some of the staff at Duncanrig and teacher Mrs Holmes said: "Rory is a great fan of Radio 2 and, in particular, of The Chris Evans Breakfast Show.
"He has based his own show on The Chris Evans show, calling it Rory's Breakfast Show."
The School Reporters contacted the show and sound producer Chris Reay offered not only to send some of the jingles they use on the show, but to make Rory his own customised jingle based on one that Chris Evans uses.
The inspiration behind the school radio station is teacher Mr Gerrard, who runs the school radio club where students present their own live radio shows at lunchtimes.
"Rory has limited functional language due to his Autistic Spectrum Disorder and when asked to speak louder, Rory would shout very loudly and when he was asked to speak more quietly, Rory would whisper," Mr Reay told School Reporters.
"We used the radio studio as it is a very visual way in which Rory could gauge how loud or quiet his voice is and Mrs Holmes now refers to the levels used in the radio studio in every day classroom situations such as level 4 voice is perfect, level 2 voice is too quiet."
Rory's work for Duncanrig Radio was also featured on the Education Showcase Stage at the Scottish Learning Festival, in the SECC in Glasgow in 2011.
Mr Gerrard said: "It's such a fantastic story and everyone who works with Rory is amazed at how much progress he has made by being a part of Duncanrig Radio."
In recognition of Rory's amazing work, a motion was submitted to the Scottish Parliament and praised both the work of Duncanrig Secondary School and the team behind The Chris Evans Breakfast Show on BBC Radio 2.
Local Member of the Scottish Parliament Linda Fabiani said: "I have been fortunate to be able to see first-hand the incredible work done by the staff at Duncanrig Secondary School who ensure that pupils with ASD reach their full potential.
"I submitted a motion to Parliament acknowledging the innovation shown by staff who used the school's radio station to help pupils develop their communication skills.
"The work of skilled professionals, such as those at Duncanrig Secondary School, will enable those with ASD to fulfil their aspirations."