School Report goes Down Under
25 March 2013

From the section

Home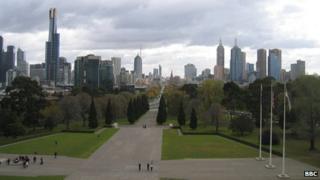 School Report had an international flavour this year, with three Australian schools from Victoria taking part in the project.
They are all around Melbourne and were:
Keysborough Secondary College, in the south-eastern suburbs, a two-campus secondary school of around 1,500 students from more than 47 different cultural backgrounds.
North Geelong Secondary College, 70km west of the city, based on a single campus and renowned for its outstanding multicultural education programmes and its comprehensive and innovative curriculum design.
Brauer Secondary College, based in Warrnambool, another 190km further on, is a large co-educational school attended by approximately 1,100 students and is situated in a town of around 30,000 residents.
The partnership with the trio, who are all part of the Deakin School news network, built on School Report's purpose of helping UK students develop an interest in news and current affairs by now giving them a chance to engage with international news.
As well as publishing their reports on their dedicated School Report web page, like every other school, Brauer recorded a short bulletin for the School Report radio programme being broadcast on News Day.
They also reported on their centenary, which is a major landmark for a school in the country.
North Geelong were visiting the Geelong Football club for a story on their 'Cyber Cats' schools internet awareness programme and had the chance to film the players training and then interview Corey Enright, who is a figurehead for the project.
Keysborough Secondary College prepared some questions for cricketer turned broadcaster Simon Hughes ahead of this year's back-to-back Ashes series.