Kate Nash answers pupil questions and reveals her teenage crush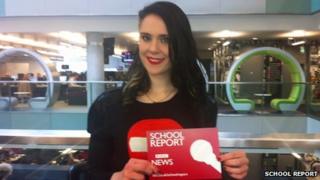 What would Kate Nash say if she could give her 13-year-old self some advice? As part of BBC News School Report's '13 in 13' series of interviews, School Reporters from across the country ask the Brit award winner that question and many more!
They also discover what she was like at school, who inspired her and who she fancied as a 13-year-old.
13 in 13 - Kate Nash
Q: How would you describe yourself? Our Lady's Convent High School, Hackney
I would say that I'm opinionated and clumsy and I am definitely led by my heart over my head. I'm quite forgetful. I like to take care of people, I love looking after my friends and stuff.
And I have a really stupid sense of humour.
Q: Who or what inspired you to do what you are doing today? Harry, St Anne's School, Guernsey
I would say the things that inspired me to do what I do today was starting piano lessons when I was a kid and continuing that all through high school.
I also had a music teacher called Mr Burditch who encouraged us to write all our own songs.
I studied music at GCSE and really got into composition, and then I went on to do a theatre course where I did script-writing and acting and wrote monologues and plays.
And I read a lot of things like fiction and plays and factual material too. I think that shaped me as a writer and really solidified the fact that I really wanted to be a performer as well.
Q: Who was your crush when you were 13? Ben, Tideway School, Newhaven
My biggest crush when I was 13 was Leonardo DiCaprio.
After I watched Titanic I was completely in love with him.
I even had a book that just had loads of pictures of Leo that I would carry around with me. I would take it on holiday with me and stuff like that. I was really in love with him.
Q: If you went back in time to talk to yourself when you were 13, what would you say? Rebecca, St Andrew's School, Bedford
If I could go back in time and give my 13-year-old self some advice, I think I would say relax and just be yourself and try not to be intimidated by people in the world as much.
I think there's a lot of pressure on people to succeed and to look a certain way, especially when you're a teenager and you're really trying to figure yourself out and your identity and who you want to be. And everything seems really important and really sort of dramatic, like you're running out of time.
I think I would just try and tell myself to enjoy the time I have being young a bit more and just be myself and be more confident.
I think I probably saw a total different image of me in the mirror than what was reality.
Q: What's the best thing that's happened to you in 2013? Georgia, Oasis Academy Mayfield, Southampton
The best thing that's happened to me in 2013 is my third album Girl Talk that just came out.
I'm really proud of it because I think it's my best work to date and I also put it out on my own record label. So that's the best thing that's happened.
Q: So, what were you like at school, were you mischievous or a goodie-two-shoes? Sylvie, St Andrew's School, Bedford
I was a mixture I think of mischievous and a goody-goody because when I was in year 7 I really wanted to be head girl.
I think I was a head girl at one point. I wanted to be liked by teachers and I wanted to do well, but my best friend and I were definitely quite mischievous in certain subjects where we knew we could get away with it.
Whenever I was in a class with her I'd always get in trouble for talking and we'd get detentions and stuff.
I remember in tech class we'd sneak off and sand down bits of random wood and other projects that we could find, like brooms or whatever.
So I'd get in trouble for little things like that but I definitely wasn't really naughty and I wanted to do well.
Q: What was your favourite song when you were 13? Tyana, 14 Tideway School, east Sussex
I think I must have been about 13 when Britney Spears's song Hit Me Baby One More Time came out because I remember watching it on Top of The Pops with one of my friends.
I remember buying it on cassette tape and playing it over and over and over again and just listening and rewinding the whole tape. I still love that song; I still think it's an amazing pop song.
Q: If you could be 13 again for one day what would you do? Owen, 14, Roselyn House School, Lancashire
I would go back to the summer holiday of that year. My mum's best friend has three boys and I have two sisters and we were best friends and we would just hang out all summer and just get up to nothing really, just go to the woods and the park and hang out.
We went on holiday to Florida one time and that was probably the best thing that ever happened to us.
So if I could go back it would be to that holiday.
I think that was one of my favourite memories of being 13.