Falkland Islands celebrate landslide referendum vote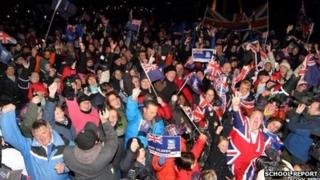 The night of the Referendum result and the party was located at Arch Green in Stanley, Falkland Islands.
The crowds were loud and united, everything was covered in flags and there was a DJ playing loud music.
The night went slowly while we waited and waited for the expected yes result.
As we waited, all the children were running through the crowds shouting "We are British and proud" which is true for much of the population in the Falklands.
Finally the result became known and the crowd erupted into enormous cheers.
After all that waiting in the cold weather the result was 99.8% of the voters saying yes.
There were speeches and the singing of Rule Britannia and God Save the Queen. The weather was very chilly and sometimes it snowed but the atmosphere at the event made the people in the crowd feel warm.
It was a night that united all the residents of the Islands.