How the BBC works with students to make the news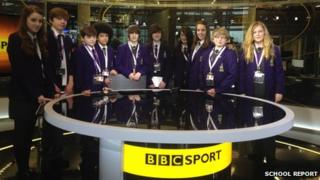 School Report gives 11 to 16-year-olds the chance to make and broadcast their own news at school.
They set the editorial agenda, not the BBC - but how involved is the BBC in what appears on BBC TV, radio and online?
The help we are able to give to schools varies enormously. Some schools do absolutely everything on their own and others have BBC mentors or a project partner to help them. The essential part is that the impetus behind the report comes from the students themselves.
For example we may line up a big-name guest for a school through contacts and the School Reporters themselves, with help from teachers, will work out the questions and then conduct, film or record and write up the interview.
During the London 2012 Olympics we arranged an interview with Great Britain 400m runner Martyn Rooney with pupils from his old school. The School Reporters questioned Martyn via email but also spoke to their school's head of PE to find out what the athlete was like when he was a pupil there.
In February a group of students visited the BBC's MediaCity home in Salford, where they were given a tour of the building, shown what goes on and then had the chance to interview a BBC Radio Manchester presenter before writing a report on their day.
Sometimes, because we know a topic that might interest schools and our wider audiences is coming up in the news diary, we ask if any school would be interested in covering it for us or reacting to the news.
Two School Reporters the chance to say how the u-turn over GCSEs affected them. As well as appearing in a School Report news story, they also ended up reacting live on the BBC News Channel!
Audio and video pieces are recorded in different ways.
Sometimes the BBC records the School Reporters at work - as with this story on Twitter addiction - but at other times the students or teachers do it themselves as in this interview with wildlife cameraman Doug Allan.
Video can be recorded on an iPhone or with a camera as was the case here when a Belfast physicist was asked to explain Higgs Bosun.
School Report is a partnership between schools and BBC News, and every case will be slightly different, but we are all working to ensure that young people have the opportunity to engage with news by making and broadcasting it for real.
And we want to give our audiences the chance to see and hear young people making their reports about the stories that matter to them.