Frank Cottrell Boyce quizzed by School Reporters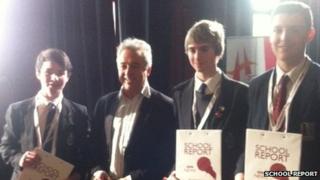 Frank Cottrell Boyce is a children's author who wrote the opening ceremony for the London 2012 Olympics.
The ceremony, based on Shakespeare's play The Tempest, was watched by millions around the world as well as a crowd of around 80,000 inside the Olympic Stadium.
Frank is also a screenwriter and among his other books is the official sequel to Chitty Chitty Bang Bang.
He answered 13 in 13 questions sent in by School Reporters from around the UK while on a visit to the Playhouse in Derry for the launch of The Return of Colmcille, one of the major events in the City of Culture programme.
The questions were put to Frank by School Reporters Kane and Peter from St Columb's College and Daniel from Lisneal College.
13 in 13 - FRANK COTTRELL BOYCE
Q: What was your first job? Mitchell, Alness Academy, Scotland
A: This is bizarre but my first job was as a Punch and Judy man, in fact it is the only job I have ever had apart from being a writer. I used to do a Punch and Judy Show and I did it for about two years. I had a little dog that collected the money.
Q: What is the one thing that you would like to tick off your bucket list? Emily, St Andrews School, Bedford
A: I ticked something off my bucket list this year. I saw the Northern Lights for the first time from the top of a frozen waterfall in Iceland so that was pretty cool.
Q: Why are teenagers so misunderstood? Georgia, 11, Tupton Hall School, Chesterfield
A: I don't think they are misunderstood, I think we understand you perfectly!
Q: How do you think you have changed since the year 2000? Tollbar Academy, Grimsby
A: I've just got a lot better looking really!
Q: I started secondary school in September. Did you feel nervous when you started big school? Elizabeth, 11, Walworth Academy, Southwark
A: Absolutely terrified because I went to a school in St Helens where the core curriculum was rugby and everybody was really pumped and huge and I was this little wiry kid and I kept thinking I would be stood on.
Q: What was your favourite lunch when you were at school? Arthur, Tideway School, Newhaven
A: Every Friday when we always had fish and chips.
Q: What song do you remember most from when you were a child? Amanda, 13, Roselyn House School, Lancashire
A: From when I was a child, the Derry song that I love is My Perfect Cousin (The Undertones) which really reflects my life in a big way.
Q: What did you do for your 13th birthday? Libby and Callum, Crickhowell High School, Wales
A: We didn't have birthday parties in those days. We had an extra slice of toast in the morning and went to school!
Q: What is your favourite holiday destination? Keavy, Cullybackey High School, Northern Ireland
A: My sister lives in Glenarm in the mountains of Antrim and it's really, really beautiful and I love going to see her there.
Q: How many languages do you speak? Andre, Gloucester Academy, Gloucestershire
A: My French is good and my Spanish is OK so that's three if you count English.
Q: If you could pass one law in the UK, what would it be? The Arthur Terry School, Birmingham
A: I would ban personalised number plates I hate those!
Q: Do you think that 13 is an unlucky number? Georgia, Oasis Academy Mayfield, Southampton
A: No, 13 is a great number.
Q: If you could summarise your life in one word what would it be? Hamstead Hall Community School, Birmingham
A: Unbelievably lucky. That's two words....just "lucky" then.