Chicago Bulls' Luol Deng: I could have been a footballer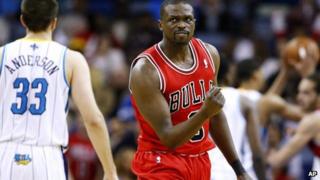 As part of BBC News School Report's series of '13 in 13' interviews, Chicago Bulls player Luol Deng answered a wide range of questions from pupils - and has admitted he was once asked to go for football trials with England when he was younger!
The NBA superstar, who is a passionate Arsenal fan and represented Great Britain at the 2012 Olympics, also spoke about what he was like when he was 13... but gets shy about his celebrity crushes!
13 in 13 - LUOL DENG
What were you like at school? Were you mischievous or a goodie-two-shoes? Sylvie, St Andrews School, Bedford
Being so much taller than everyone else, I stood out, so I had no choice but to be good! My parents also made sure that I took school seriously, as education has always been really important to my family.
Where did you hang around when you were 13? Bramcote Park Business & Enterprise School, Nottingham
Just before I left to go to high school in the US I would be with my school friends mostly playing football. I'm a massive Arsenal fan and was a striker trying to copy Ian Wright.
Who was your best friend at school? Tyler, Cullybackey High School, Northern Ireland
Tough question. I didn't really have a best friend, there was a group of us that all hung out and got on really well. When I come back to London, I try my best to see them. We are still really good friends.
If you were 13 again what would you do differently with your life? Jack, 14, Oasis Academy Mayfield, Southampton
I honestly don't think I would do anything differently. Life is about going through things and learning along the way. At 13 I concentrated on my school work and playing sports which to this day is something I still believe is very, very important.
If you went back to school, what subject would you do better in and why? Kirsty, 13, Tideway School, Newhaven
Definitely English. Coming from Africa to the UK, I found the language hard at first, [and that was] where playing sports helped so much. It helped me make friends and learn, but now, travelling, I have mastered English, so let me take the tests again!
If you could choose any other career, what would it be and why? Tollbar Academy, Grimsby
Another good question. I always said if I didn't focus on basketball then it would have been football. I was pretty good and was asked to go to England trials. So I would be a professional football player for my beloved Arsenal. Gooners!
If you were stuck in a supermarket what would you eat first? Jessica, St Andrews School, Bedford
Like this question. Ha-ha! I think I would go for fruit. I know, not exciting is it?!
Who is your celebrity crush and why? Hafisa, 13, Morpeth School, London
Oh boy! No comment!
What music gets you dancing? Redwood School, Rochdale
Afrobeats every time. We play it sometimes before our Chicago Bulls games in the locker room.
Who is your role model? Steven, Royal Blind School, Edinburgh
My parents. They have done so much for me and my family and will try to mirror them when I'm a parent.