Access All Areas at Radio 1's new studios for Dunraven pupils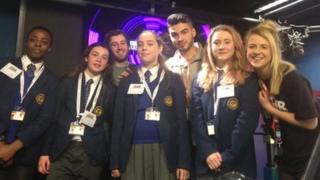 As part of Radio 1 and 1Xtra's Access All Areas month, we had a chance to visit the BBC's Broadcasting House and the radio stations' new home on the top floor.
As you travel up in the lifts, most of the floors look the same with lots of red and orange, until you get to the Radio 1 castle, the purple penthouse at the top of the tower.
As a bit of a warm-up we caught up with Ant Baxter, a Newsbeat reporter, who gave us lots of advice about interviewing, like making it relaxed and sounding like a normal conversation.
Then Deena, one of the Radio 1 team, gave us a tour of the floor, and we were amazed.
Radio stars on air
It is really colourful. We saw the "runway" area where the A-list star guests come and the walls are covered in lyrics from songs and their signatures.
The whole place has a cool, relaxed vibe about it which was then amplified when we walked into the Live Lounge area and in between radio studios where we could see Sara Cox on one side and Trevor Nelson on the other, live-on-air!
But the reason we were there was to chat to the Access All Areas interns - Pete, Moses, Alice and Kae, who used to be a student at our school, Dunraven in south London.
We met them in one of the empty radio studios and had a long natter, including asking Kae about some of the teachers that were at Dunraven when he was still at school!
Intern inspiration
As part of their work at Radio 1, the interns are working together to produce a live show on Wednesday night between 1900 and 2100 GMT.
They wouldn't tell us much about it other than their battle of the DJs idea, although Kae said "it's going to be like never before…"
They all seemed very relaxed about it, although Alice did say she thought they'd be working until midnight for the next two days.
It was interesting to hear that they hadn't all wanted to work in radio from an early age.
Kae said he definitely wanted to be a doctor when he was still at school and only discovered his passion for radio at university.
Moses said he's now interested in using his filming skills to make music videos.
It sounds like they are having an amazing time working here.
Pete told us how meeting The Wanted was "pretty cool" and Alice said she is always still star stuck about "everyone we see every single day".
Aled's advice
So from new faces to an experienced radio producer, we then had a chance to speak to Aled Haydn Jones who has been helping the interns as well as being a presenter for the Sunday Surgery show.
Aled told us about some of his most memorable and most embarrassing moments working for Radio 1, from meeting Madonna and One Direction to leaving all the production team outside a concert without their passes after he took them home.
He also had some great advice about doing interviews and getting involved in radio. He said getting experience is really important - he started helping out with hospital radio when he was 13 like us.
Aled also gave us some unexpected and enlightening tips about recording and reading out scripts. He said he used to read them off the TV when he was younger and sitting in his gran's front room.
He described how he loves making programmes as it is "about being creative" but that one of the downsides to working in the media 'is that it is so public…everyone has an opinion so you have to grow a thick skin".
It was really interesting to speak to someone who has so much experience compared to the interns who are still learning. Everyone we spoke to sounded like they loved their jobs though!
We didn't expect to go into a live studio, but as we were leaving, Trevor Nelson invited us in and showed us how to make seamless radio and how he uses jingles on his show.
At the end we had a quick chat with Sara Cox. Isadora is now quite annoyed she didn't ask for an autograph.
So we had a real taster of what it is like to work in radio and after this visit we will all be tuning into the interns show on Wednesday to see which DJ wins.