Author Cathy MacPhail discusses writing career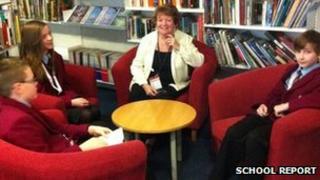 Award-winning author Cathy MacPhail visited Hamilton College to talk to first and second year pupils about her books and to give advice to aspiring young writers.
She talked about her forthcoming novel, and signed some of her books for the students.
The Hamilton College pupils were delighted to have such a visitor.
Iona, 13, a second year student at the college explained: "Cathy MacPhail is one of my favourite authors. My favourite book is probably "Worse Than Boys" which I asked her to sign today.
"It was amazing to meet her. I was supposed to meet her once before but she was ill, so I was very pleased when I heard she was coming to my school."
As well as giving advice, Cathy answered some School Reporters' questions.
Q: What advice would you give to young people who are aspiring to become a writer?
A: You should observe as much as you can and write as much as you can. Keeping a journal is a good idea.
To become a better writer, you need to read a lot.
Q: How do you think of your characters' personalities and are they based upon people from your own life?
A: I take inspiration from interesting places I have been. Then I base my characters' personalities on the story I create in my head about the place.
Q: In the future would you write another series of books?
A: I wrote the Nemesis series with boys in mind. In the future I think I would like to write a series that had a girl or girls as the main character.
Q: Which genre of novel do you enjoy writing the most and why?
A: Mystery is a personal favourite.
Q: If you were trapped on a desert island, which books would you take with you and why?
A: 'Little Women' by Louisa May Alcott is a personal favourite of mine as it was about four sisters and one of them wants to be a writer and in my family there are four sisters and I wanted to be a writer.
I liked the way Charles Dickens wrote about gritty reality and I think my books are about gritty reality sometimes as well.
He also wrote books as a serial so he had to end his chapters with a cliffhanger.
Q: If a pupil was trapped on a desert island which one of your books would you recommend they take with them?
A: It depends if you are a boy or a girl - if you like mystery or romance. It really depends on the person and what their interests are.
However I would say that 'Dark Waters' is one of my own personal favourites.