Students prepare for News Day with practice run
15 February 2013

From the section

Home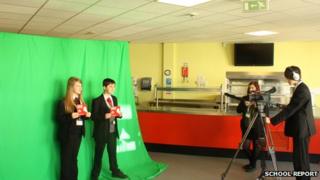 School Reporters from all over the UK have been busy telling the stories that matter to them on the last Practice News Day of the 2012-13 academic year.
Pupils reported on everything from the ongoing horsemeat scandal to school ties in an action-packed practice run ahead of News Day on 21 March.
Many schools taking part said they learnt lots of lessons that will stand them in good stead for the real News Day, in just over a month's time.
Katie, 14, from Darlington School of Maths & Sciences, said the day had been "really enjoyable" but they had learnt that it was important to get really organised beforehand so that all the timings work properly.
At Lord Grey School in Milton Keynes students were thrilled they met the 1400 GMT deadline.
"There were ups and downs," said School Reporter Abdul. "But we managed to get through it by working together as a team.
"My role was to record the footage and it was fun because it was something I have never done before."
Fellow School Reporter Spencer also found the day provided him with some useful experience ahead of News Day.
"It was interesting working the camera because I had to make sure everyone was ready before I could press record," he said.
While many of the reporters focused on stories inside school, Reporters from Denton Community College in Tameside spent the day at the BBC's MediaCityUK base in Salford.
They got to check out the Breakfast TV and Sport studios and BBC Radio Manchester.
Keen reporters even got to attend a radio news planning meeting and managed to grab an interview with Becky Want, who presents BBC Radio Manchester's afternoon programme.
Meanwhile students at Fullbrook School in Surrey had a scoop when they interviewed the Mayor of Runnymede, Cllr Linda Gillam.
She told them she wanted to see Runnymede "put on the map" and stressed the importance of everyone knowing about the history of the Magna Carta being signed there.
All in all it was a frantic day, but great practice for News Day... roll on 21 March!
Practice News Day Schools
•Blythe Bridge High School. Staffordshire
•Bolingbroke Academy, London
•Cams Hill School, Hampshire
•Carluke High School, South Lanarkshire
•Chigwell School, Essex
•Comberton Academy Trust, Cambridge
•Corpus Christi Catholic Sports College, Lancashire
•Darlington School of Maths & Science, Durham
•Davison C of E High School for Girls, West Sussex
•Denton Community College, Tameside
•Diss High School, Norfolk
•Eastbury Comprehensive School, London
•Fearns Community Sports College, Lancashire
•Fleming Fulton Special School, Belfast
•Fullbrook School, Surrey
•Guildford County School, Surrey
•Harris Academy Purley, Croydon
•Heritage High School, Derbyshire
•Hounsdown Secondary School, Hampshire
•Lagan College, Belfast
• Lisneal College, Londonderry
•Lord Grey School, Milton Keynes
•Lurgan Junior High School, County Armagh
•Madras College, Fife
•Manor Church of England Academy Trust, York
• Oakgrove Integrated College, Londonderry
•Ormesby School, Middlesbrough
•Parrs Wood High School, Manchester
•Penwortham Priory Academy, Lancashire
•Skerton Community High School, Lancaster
•Saint Aidan's C of E Technology College, Lancashire
• St Cecelia's College, Londonderry
• St Columb's College, Londonderry
•St Michael's Catholic School, Buckinghamshire
•St Philip Howard Catholic High School, West Sussex
•The Arthur Terry School, Birmingham
•The Bramcote School, Nottingam
•The Towers School, Kent
•Tobermory High School, Isle of Mull
•Wallace Hall Academy and Primary School, Dumfries
•Whickham School, Gateshead