'We took part in Archbishop's confirmation'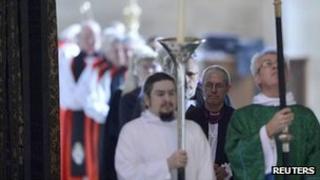 On Monday, 4 February we took part in a hugely important service confirming the election of Justin Welby as the new Archbishop of Canterbury.
This service was a legal requirement, before his official enthronement in Canterbury on 21 March, to confirm that it was a legitimate election.
The lawyers looked unusual in their fancy wigs but it turned out to be very necessary. The Archbishop of Canterbury is the head of the Church of England, which is the established church in this country, so everything has to be done according to the law.
The Lord Mayor was present at the service as well as the Dean and Chapter of St Paul's and Canterbury Cathedrals.
The Archbishop of York was presiding.
We sang a movement of Benjamin Britten's Missa Brevis in D (the 'Gloria' for those music fans out there).
We did not need much rehearsal as we had sung it recently before!
It differed from our usual cathedral routine as it was during the school day.
There were pros and cons to this, like missing lessons and no evening rehearsal but unfortunately we missed a break time and had our lunch later than usual.
The sermon given by the Archbishop of York was very moving because it described his time back in Uganda and what his sometimes shocking experiences taught him.
We were glad that we had sung in the service as we took part in a very memorable and historic event.