Highcrest Academy school stages 'parliamentary debate'
The Highcrest Academy's assembly hall was turned into the House of Wycombe as sixth formers from five schools came together to recreate a parliamentary debate with MP Steve Baker at the helm.
The school hall was transformed and had two sides.
The right hand side was for the government and they said "aye" and the left hand side was the opposition, they had to say "no".
The chairs were not quite accurate as they were red and in the House of Parliament they are green.
There was water and glasses available on the table and books to make it look professional.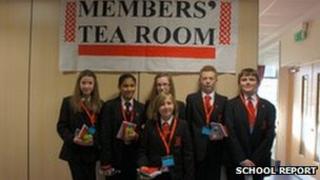 A bell, stopwatch and cards were laid out on the table to time each speech.
Finally, the mace was placed at the back of the hall on a table; this represents the Queen whose role was taken on by the mayor.
The debate was carried out in a professional way just like a parliamentary debate.
When the participants wanted to get the attention of the Speaker, whose role was taken on by MP Steve Baker of High Wycombe, they had to stand up and Mr Baker chose who he wanted to speak.
When it came to voting, all the students stood up and went around the two division lobbies where their votes were counted.
If someone believed a point that was mentioned by someone else was good, then the team members waved their papers and said "hear, hear" and the opposition said "shame".
WHAT THE SCHOOL REPORTERS THOUGHT
"We had never watched a parliamentary debate before, but it was quite interesting and we learned lots of new facts," said Megan and Ellie.
"Though it was time consuming, the hall looked very realistic to parliament, but if we were to do it again we would change the colours of the chairs and the length of each debate."
Adam and Jack thought it was confusing when they kept saying "honourable gentleman" and "honourable lady".
They said it was very interesting to watch and they would not change anything about the day.
For Charlotte and Prisilla, meeting Steve Baker was the highlight of the day.
"We definitely want to take part in this event next year when we're in sixth form," they said.