Safer Internet Day: Children's Minister Edward Timpson warns on cyberbullying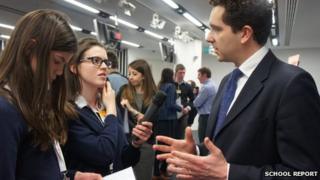 Safer Internet Day really opened our eyes to other people's views and it was really interesting to see different perspectives on internet safety.
We interviewed Children's Minister Edward Timpson about staying safe online.
"One of the things we see occurring which didn't happen in my day is cyberbullying," he said.
"Bullying is bad enough in itself, but with cyberbullying there is no escape. You can't hide in a room," he added.
Mr Timpson said it was important for young people and parents to be aware of the risks of going online and therefore take all the necessary precautions.
He said it was important to "understand the power of the internet in a positive way and also that it can have the potential to have a negative impact".
We asked him at what age he thought young people should have their internet use monitored.
He said: "I don't think you can start too young.
"I've seen children as young as three or four who are using tablet devices. Even a very young person may come across some material that's hugely inappropriate."
He told us that when his young child wanted an iPad Touch he went through all the controls first and explained what he had done to his son.
"It's really important that not only do you take responsibility in the home both online and offline for your children's safety but that you take the time to explain why you're doing it," he said.
After interviewing the Children's Minister, we spoke to some of the other young people who came along for Safer Internet Day.
They told us they were on lots of networking sites, but tried to make sure they had the correct privacy settings.
Some said they felt people "hid" behind their computers.
One student said: "I think people use their computers as a shield to mask what they're doing. It's as if it gives them a sense of invincibility."