City of Culture: Londonderry ready for Radio 1's Big Weekend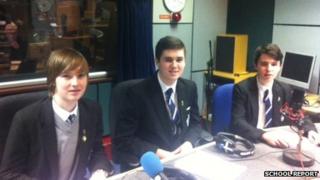 On very few occasions are the young people of today allowed to give their opinion on issues which are topical to them in our society.
Kane, Jack and I were given the chance to do this very thing as part of the BBC News School Report project.
Leaving school behind, we travelled to Ebrington Square, the centre of events for Derry-Londonderry City of Culture 2013.
There, with the excellent help of our project manager, Elaine McGee, we interviewed a number of members of the public, as well as some more famous faces including Two Door Cinema Club.
We were able to gain an insight into their views on the Radio 1 Big Weekend which is coming to the Maiden City as part of the cultural celebrations.
It will be the second time this monumental event has graced our city.
Despite the wind and rain, we discovered an overwhelming feeling of pride and excitement at the thought of such big acts performing in our town.
In particular, there seemed to be great demand for the Foo Fighters, Florence & The Machine and even celebrities as famous as Beyoncé.
If this was not enough, we were then given the chance to appear on BBC Radio Foyle's Mark Patterson Show to recall the feelings we had experienced and explain the intent of School Report.
I personally can say that it was one of the most exhilarating experiences of my life which was greatly aided by the hospitable nature of all involved.
It was simply unforgettable and in my opinion, was the perfect way to begin my City of Culture.