Millennium babies: What's it like to be 13 in 2013?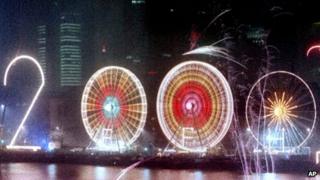 Millennium babies are becoming teenagers!
They're turning 13 in 2013 and this is one of the key themes of this year's BBC News School Report.
We would like to hear what matters to 13-year-olds right across the UK from students involved in School Report.
What are their hopes for the future? How do they feel about being 13? What's the best thing about being a 13-year-old? Who is their best friend and will they still be in 13 years' time?
Are they having a Bar Mitzvah this year? Is being 13 now different to when their parents or grandparents were 13?
What is the most important thing to have happened since turning 13? Do you feel any different when you become a teenager?
Teenage voices
We'd like to broadcast their voices on School Report's output on radio, television and online.
We're asking School Reporters across the UK to record each other talking about what it means to be 13 in 2013.
Last year BBC Radio 4 ran a series called The Listening Project.
Essentially, it listened in to conversations between people talking about what mattered to them.
Here a 13-year-old talks about his Bar Mitzvah and in this post, a group of students talk about the prospect of leaving school.
Let us know if you can get involved by emailing schoolreport@bbc.co.uk
Obviously other age groups are involved in School Report, but for this part of the project, we are keen to hear just from those who are 13.