Radio Lancashire visit thrills School Reporters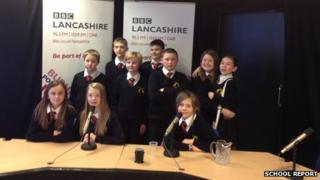 A teacher and 11 students from Hameldon Community College in Burnley had a memorable visit to the BBC - they went to Radio Lancashire which is based in Blackburn.
They saw the TV studio, where local news stories are recorded, and visited the radio studio. Some of the students did vox pops which were being broadcast on Radio Lancashire later in the day. People were asked about their best recent day out, in relation to a study about how it can cost £250,000 to raise a child.
The students from Hameldon also split up into two groups to interview BBC Radio Lancashire presenters Alison Butterworth and Joe Wilson.
This is what they said about their day:
We've been given a tour of the studios by Sanjiv Buttoo, assistant editor.
At 10am we sat in on the BBC Radio Lancashire planning meeting in their newsroom. In the meeting they discussed the main news stories for the day and ideas for tomorrow.
Some of the stories they talked about were a local stunt man who appeared in the film Les Miserables, a report of high suicide rates in farmers because of financial pressures, and a local minibus which was drilled into by thieves to steal the petrol.
Sanjiv showed us the Gram Library, which is not used anymore but this is where the vinyl records and CDs used to be stored. It is called the Gram Library because records were played on gramophones.
Now all the music is digitally stored and when they play a song on the radio they have to pay the artists royalty fees.
We saw the TV studio where local news stories are recorded. It has a TV screen, so the presenter can see themselves, and a board behind them showing a local Blackburn scene and the BBC logo.
The studio is sound proofed and looks like paper mache to stop the echoes. In the radio studio, the microphones are different colours for different people and there's a light that flashes when the phone's ringing because they can't hear it. When the red light is on in a studio it means the studio is live.
Alison Butterworth said she hadn't thought about wanting to be a journalist until she was in Year 8 at school. And she said she got used to getting up early in the morning because she loved her job.
Her top tips were "be polite and don't shut up", "keep asking questions until you find out what you need to know" and "try to find ordinary people who have done extraordinary things".
We've had a really interesting day and we've loved learning about journalism and the BBC.