'Lucky' pupils reflect on BBC reporting experience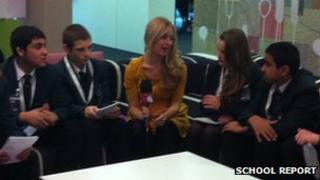 At the beginning of the day we went to an interviewing workshop in 'The Lab' at the BBC in Salford where we learned more about how to interview people, including why it is so important to ask open questions.
After watching a video from the School Report website about how to interview people, we remembered that we should keep the 5Ws (who, what, where, why, when) in mind when coming up with the questions.
We also had to do our research on Newsround presenter Hayley Cutts, who had agreed to speak to us.
We put our research skills into action and found her profile on the Newsround website, which gave us some inspiration for questions to ask her.
When we were waiting to interview Hayley we felt nervous but she soon made us feel comfortable, as she was really nice.
She told us that she had covered lots of different stories for Newsround and even slept on the streets for a report about homeless people.
She also told us about the people she has interviewed - everyone from the Prime Minister David Cameron to an actual goose!
Hayley was very funny when she told us that she once jokingly punched her co-presenter Ricky Boleto on live television!
She said she hopes that in three years' time, she will have made a real impact with the stories she covers.
Autocue
It felt strange using the microphone and being filmed but we did get used to it - a bit anyway!
After lunch we were very privileged to have a tour of the BBC Sport newsroom with assistant producer Chris Smith.
We got to see the gallery where they operated the cameras and saw what the autocue looks like from the presenter's point of view.
We saw a sports bulletin go out live - it was very exciting.
Once the news had finished we were allowed to go into the studio and sit in the news reporter's chair.
We soon realised that on set, the lights are really hot so we warmed up quite quickly.
The people in the gallery were having fun with us by moving the camera shots while we were posing!
Then we visited BBC Radio 5 live, which is based in the same building.
We had the opportunity to speak to 5live interactive editor Will Cooper who told us a lot about how the radio station works and how many listeners they had (6.2m).
We have learned so much today - including how to relax when interviewing people as they are just ordinary people like us, even though they are on the TV. We feel very lucky.
It has been a very exciting day and it is a day we will never forget.