BBC Radio Merseyside visit inspires Liverpool students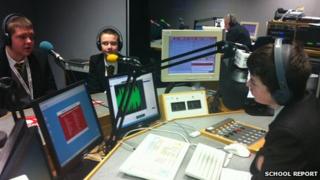 BBC producer Steve Coleman has told School Report he was naughty at school and left with no qualifications, but has worked hard to get where he is now.
Pupils from the De La Salle Academy in Croxteth, Liverpool, met Steve at BBC Radio Merseyside as part of School Report's Practice News Day on 24 January.
"I never dreamt I would work for the BBC. I left school with no qualifications in 1986 but worked hard after that", said Steve.
"If you work hard, it does work out."
Steve has worked at BBC Radio Merseyside for seven years and currently produces the Breakfast show.
However, he used to be a teacher at Roby College on Merseyside.
He first got involved with the BBC working on the BBC Bus and then a job as a producer became open and he jumped at the chance and got the job.
"I prefer working at the BBC to being a teacher," he added.
"I like the pressure of the job and meeting ordinary people. Sometimes people will tell you things with personal meanings that they will not share with anyone else and that is really special".
Steve's personal favourite guests have been comedian Russell Brand and former Spice Girl star Mel C.
He remembers Russell Brand because of his stylish entrance.
It was quiet outside the station until paparazzi jumped out of nowhere to take pictures of the celebrity, guarded by his minder Big Dave.
Steve said it was the best half hour's radio he has ever made.
We asked him what advice he would give to a young journalist. He replied: "Find what you are best at. Be bold, brave and confident and be able to take criticism."
He went on to say that as a journalist, curiosity is more important than confidence because confidence can be learnt but curiosity is something that you need to have.
As well as meeting Steve, we also met Tony Snell aka Snelly, the Breakfast radio star, did our own interviews in the radio studio and edited them, listened in on the news meeting and had a tour of the station. It has been an awesome, cool and memorable experience!