Schools Reporters hone their skills on Practice News Day
24 January 2013

From the section

Home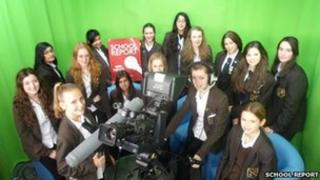 Premier League footballers have been among those to be grilled by School Reporters taking part in our third Practice News Day of the 2012-13 academic year.
With just two months to go until the real News Day on March 21, School Reporters have been honing their journalistic skills in preparation.
Newcastle School for Boys got the scoop of the day when pupils interviewed Premier League stars Jack Colback and Jonas Gutierrez.
See the details of this and all the day's reports on our live page.
But a whole range of other issues, including schools closing because of the snow, the changes to A-levels and the discovery of horsemeat in beefburgers were covered by the schools across the country that took part.
And international stories, like President Obama's inauguration and David Cameron's referendum proposal over Britain's membership of the European Union also caught School Reporters' attention.
The day got off to a great start with School Reporters at Marden High School in North Shields holding their editorial meeting.
Their Year 8 students discussed covering which stories they wanted to cover including the Eden Hazard/ballboy incident and the British grandmother sentenced to death in Bali for drug-smuggling.
And students were able to turn the table on BBC journalists and interview them for a change!
The team from Cedar Mount Academy in Manchester went to the BBC's MediaCityUK home in Salford where they interviewed Newsround presenter Hayley Cutts.
BBC Radio Lancashire's Alison Butterworth was also quizzed by a group of students, this time from Hameldon Community College, Burnley.
Her top tips included: "Keep asking questions until you find out what you need to know."
Pupils from Fullbrook School in Surrey have just finished interviewing scientist Jim Al-Khalili OBE. He said "they did a very good job!"
And Tendring Technology College in Essex were among the schools that had to overcome technical difficulties to get their stories ready- a good lesson for the real News Day!
Cameron from Year 9, who was in charge of editing their story on gun and knife crime, said: "We did some really good filming but when it came to editing, the system crashed!
"But I managed to recover all the lost footage and get it edited together."
And if you want to understand what it's like to be editor for the day listen here to the experience of Stella from Gumley House Convent School in Isleworth.