London 2012: GB Volleyball players inspire Catmose College School Reporters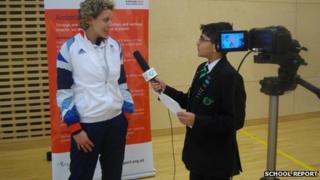 As part of the Olympic Legacy programme in Leicestershire and Rutland, two members of the Team GB and Paralympics GB Volleyball teams visited Catmose College.
Maria Bertelli and Andrea Green visited the school as part of a roadshow to speak to Year 7 and 8 pupils about the Olympic theme: Inspiring a generation.
Maria is a volleyball player whose hard work and perseverance helped her to become a major role in the team.
Before the 2012 Olympics, the GB Volleyball team were ranked around 69th and in the Olympics they played teams who ranked in the top 20.
Maria told us how the team spent seven years of training to be the best that they could be.
The team GB volleyball team did extremely well at the Olympics and came ninth after not having had a team in the Olympics before.
Never give up
Andrea Green is a sitting volleyball player but previously she had played standing volleyball for 20 years.
However she never gave up even when she was diagnosed with a dropped foot due to nerve problems in her back.
She participated in last year's Paralympics as a minimally disabled (MD) athlete which means that they have impairment in their ankle or knee that prevents them from playing standing volleyball.
The team are allowed a maximum of one MD player on the court at any time and Andrea was one of these players who played in a rota basis.
Although the team lost all their games, they were pleased with their performance as they finished eighth.
Andrea commented on the weekend report on the legacy of Paralympic sport.
She mentioned that although perceptions towards Paralympic sports had changed perhaps not enough thought had gone into the infrastructure.
We were very inspired by the visit of these athletes and how they knew that both teams had a long journey to go on to be successful but they overcame their obstacles and were the best they could be.