Safer Internet Day: A teen guide to staying safe online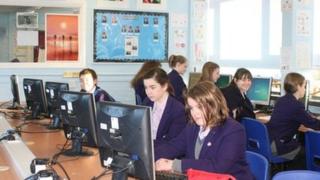 Staying safe online is an important issue for young people using the internet, with cyberbullying becoming an increasingly serious problem.
To coincide with Safer Internet Day, School Reporters at Chislehurst & Sidcup Grammar investigated some of the safety issues which affect young people online.
Have a read of their top tips to staying safe and out of trouble when you're on the web.
SOCIAL NETWORKS
By Josie, 13
Facebook is one of the most popular social networking sites with over 800 million people online - lots of them people our age.
With people posting and 'liking' everyday, it is a great way to share what you're doing with your friends. But are they all friends?
People can hold fake accounts, pretending to be someone they're not. This may seem scary but there are some things you can do. Safety on Facebook is very important, but do you really know how to stay safe using social networks?
First thing to do is check your privacy settings - making sure you know what you're showing to the general public. Some status updates and pictures could attract these 'fakers'.
You can change this setting so only your friends can see, with just one click of your mouse.
Accounts can be hacked into if you have a weak password, so make sure your password is one which only you know. This can cause 'fakers' to pretend and write posts in your name.
To avoid this, have a strong password that includes numbers or symbols. You can check if people hacked your Facebook account by checking your statuses. Changing your password often, also helps.
Never agree to meet people that you've never met in real life. This could be dangerous, as that 14-year-old boy could be an old grandpa! To avoid this don't agree to meet up, no matter how good it may seem and always tell your parents!
HACKING
By Jack, 12
You need to be very careful when you are online because criminals can hack your computer really easily.
Always protect your data. Criminals are most likely to hack websites when you enter a credit card number in.
If you do buy a product online, then you should use a 'Single-Use' account which is located on most websites. This is when your card details are deleted straight after payment.
Also avoid buying products from sites that you don't know. Only buy products online from sites that you trust.
And always remember that even if a site says 'secure' and starts with https: it means that it is harder to hack, but not impossible to hack.
PERSONAL INFORMATION
By Millie, 12
Keep details such as your full name, address, mobile number, email address, school name and friends full names secret.
Otherwise people can use this information to contact you. Your passwords and nicknames should always be secret.
If you have to give an online screen name or nickname, never use your real name, and try not to use things that are easy to guess like your parents name or the name of a pet.
When you send a text or photo message from your mobile, your phone number automatically goes with it.
So think carefully, especially before sending photos of yourself or friends from your camera-phone.
DOWNLOADING
By Jo, 12
Gaming and technology has really moved on. You can send countless messages as you sit in your chair and play on your console.
Also you can now download games so that they're ready to play as soon as you click 'download'. However not all downloads are completely safe - some may contain viruses, and not all messages will be friendly. Here's what to do if you receive a bad message or virus.
Check the website that you have downloaded and research its history before you press 'download'. If it is the official webpage of the download, it should be ok, but you should always check.
Do you know what to do if a user starts hassling you online? Who do you tell? Where can you turn?
Check out the report abuse section of the games website you're on, or, if you're on your console playing, make sure you know how to block a user and save the evidence of their abuse. Always let an adult know if you think you are being cyberbullied.
CYBERBULLYING
By Sienna, 12, Issy, 13, & Marina, 12
Even on the internet bullying can occur. Posting an embarrassing or humiliating video of someone, harassing someone by sending messages or even setting up profiles on social networking sites are all examples of cyberbullying.
No one especially children and teenagers should go through this. Normally the bully may seem big but is actually as scared and shy as the victim. People seem so big over the internet. You don't really know who is out there or who is behind the profile or screen.
Talk to someone you trust. This could be a teacher, parent or friend. You may even have to change your email address if you're repeatedly bullied through email.
No matter how horrible the message - do not reply. That is what the bully wants. Instead block instant messages and emails. Ask a parent or teacher for help.
Whatever you think, you're not alone. There is always someone else who has gone through something like you. In our class at school of 18 pupils, seven have been cyberbullied and 12 know someone who has experienced it.
In terms of instant messaging, it is very easy to say something that you wouldn't say in real life. You can easily become a bully. Stop and think before you write a message. Think of the consequences. How would you feel in that situation?
Find out more about the BBC's campaign for Safer Internet Day Share Take Care.