Safer Internet Day: School Report tackles technology and staying safe online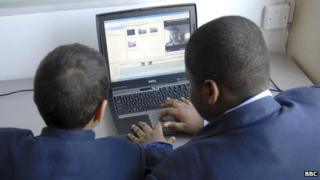 Safer Internet Day took place around the UK and across the world on 5 February.
The UK Safer Internet Centre worked with schools in the run-up to the big day around the theme 'Connect with Respect' to urge young people to help someone else stay safe while they are online.
School Report has a number of resources and reports to help guide your students and help them learn about online safety.
MINISTER WARNS ON CYBER BULLYING
Pupils from The Mary Erskine School, Edinburgh, interviewed Children's Minister Edward Timpson about staying safe online.
Mr Timpson said it was important for young people and parents to be aware of the risks of going online and therefore take all the necessary precautions.
Students Emily and Ailsa pointed out the useful 'Rights and Responsibilities charter for Secondary Schools' whilst using the internet.
Report: Children's Minister warns on cyber bullying
Video: Emily and Ailsa interview Mr Timpson on web safety
Q&A WITH LOUISE MINCHIN
BBC Breakfast presenter Louise Minchin helped to promote the 'Share Take Care' campaign, a BBC initiative to mark Safer Internet Day.
Students from Wildern School in Hampshire were able to put their questions to Louise as part of BBC News School Report's coverage of Safer Internet Day.
This valuable guide should help to make the internet a safer place for young and old alike.
Story: Louise Minchin Q&A
TWITTER 'ADDICTION' AND SAFETY
Do students know how to stay safe on social networking sites like Twitter?
Statistics by the UK Safer Internet Centre show 96% of 11-19-year-olds use the web to communicate, so it's important to stay safe.
Students from Tarporley High School in Cheshire viewed the issues surrounding the hugely popular social networking website, and talked to people in the know about how to avoid any problems.
Report: Safer Internet Day: Teens probe Twitter 'addiction'
Video: Teens probe Twitter 'addiction'
STAYING SAFE ONLINE
Online safety is an increasingly important part of youngsters using the internet.
With cyberbullying becoming more of a problem, it is important that students know what they are doing when they are online.
Students from Chislehurst & Sidcup Grammar School came up with their own top tips for staying out of trouble online.
Teacher resources: A teen guide to staying safe online
TWITTER
Twitter is a micro-blogging site which people use in different ways.
Some share what they are doing at any particular time on the site while others use it to promote text, video, audio stories and photographs which they have created or come across or which they wish to promote.
Other people never post anything on Twitter but use the site to see what other people have to say.
Journalists use Twitter as a newsgathering tool - although they would double check stories they find before broadcasting them to a wider audience.
There is an age restriction on the site, which can only be used by people aged over 13.
Teacher resources: How to use Twitter safely as a journalist
Quiz: Using Twitter safely as a journalist
INTERNET RESEARCH
Using the internet to research information for homework or background information on people in preparation for an interview is commonplace these days.
But it is not as straightforward at it seems. How do students know which sites can be trusted and which should be avoided?
Teacher resources: Activity - Internet research and questions
FACEBOOK
Do your students know how to use Facebook safely and the best way to programme the Privacy Settings?
Why does the social network have an age restriction of 13?
School Reporters interviewed Facebook's director of policy for Europe, the Middle East and Africa to find out more while another group conducted a survey of schoolmates.
Report: Facebook boss responds to criticism
Report: Under-age social networking investigated
CYBERBULLYING
School Reporters from Battersea Park School overcame their nerves to interview pop singer Cher Lloyd.
They found out more about her about experience of being cyberbullied, and the pressures of being a famous female.
She told the students how hard it can be when people make horrible comments about her appearance.
Meanwhile, pupils from Horbury School Specialist Language College in Wakefield reported on their school's "cybermentor" scheme which gives advice and support to victims of bullying and pupils with behavioural difficulties.
Video: School cybermentors tackle bullying
Video: Cher Lloyd discuses cyberbulling
REPORTING TECHNOLOGY
As well as using technology, it is useful for students to know how to report on the changing trends in the industry.
The BBC's technology Rory Cellan-Jones gives his top 10 tips for reporting on news about phones, games, computers and the internet.
Teacher resources: Top 10 tips - reporting technology
MOBILE REPORTING
The technology on smartphones has revolutionised the ability of reporters to simply gather material while they are out and about on a story.
Rather than carting round huge amounts of kit, lots of journalists now do much of their trade on their smartphone.
This School Report guide features lots of practical advice for using smartphones as part of the newsgathering process.
Teacher resources:Making the news on your mobile