BBC Stargazing Live event inspires Glasgow students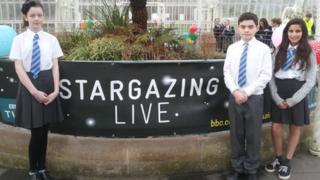 School Reporters from Holyrood Secondary School in Glasgow got inspired about stars and outer space at one of the many BBC Stargazing Live events taking place around the UK.
First-year students Kaela, Peter and Erin went along to the event at Glasgow's Botanic Gardens, organised by BBC Scotland's Learning Department and spoke to BBC News School Report about their experience.
Q: Are you into astronomy and science?
Erin: "I always wondered about planets and everything but never really got that into it at all. But today has made me realise all about the planets and the stars. I'm really enjoying today and learning about all the different facts."
Peter: "You never know what you'll find out next. I've always wanted to find out about space and science. It's made me get back into thinking about the stars and when they'll explode and stuff."
Kaela: "It's quite new some of the things we've learnt. It's made me a lot more into stars and astronomy. I've always been fascinated by this kind of stuff... The stars and the milky way just look amazing and I've always just wanted to learn a lot more about it."
Q: What fun things did you do at BBC Scotland Stargazing Live?
Kaela: "We've touched different things from the moon. We saw some different things through telescopes and how telescopes work."
Peter: "We made some Saturns out of polystyrene and CDs, there were lots of different activities. We saw the heat on bodies using heat analysis things."
Erin: "We looked at how black holes come about and how all the rocks fall off space into earth."
Q: What new things did you learn?
Erin: "I never knew that shooting stars were just as small as a grain of sand and that what makes them so bright is the speed that they travel through the air."
Kaela: "We've seen this fascinating slideshow about how rockets work."
Peter: "The most interesting thing I have learnt is all about the robots and how they work... They help scientists see the stars, without them they wouldn't know as much as they know."