School Reporters turn tables on BBC presenter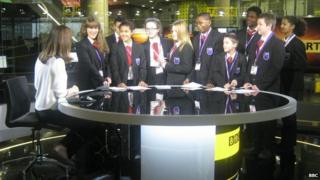 We interviewed Breakfast presenter Sally Nugent at the BBC Sport Centre at MediaCityUK in Salford on Wednesday. She told us about the highs and lows of her career.
One of her highlights was the 2012 Olympic Games. Sally went to the Games to watch Usain Bolt win gold medal in the 100m final. She described the atmosphere as being "wild and unbelievable".
Sally told us: "It was 10 o' clock at night and really I should've been in bed. It took an hour to get to the stadium and the 100m was over in 10 seconds, but it was the best thing I've ever seen."
Over the years Sally has done thousands of interviews, some full of comedy and laughter, others with sports superstars.
Sally's most difficult interview was when she spoke to Anne Williams, whose son Kevin died in the Hillsborough football disaster in 1989.
It was a few years after the tragedy that she did the interview with the heartbroken mum and when Sally was interviewing Anne she said she wanted to get the truth out to the world, and that was why she started her campaigning.
Sally said: "Anne fought very hard for the wrongs to be righted."
The BBC presenter said her most embarrassing moment was not long ago when she was at stables feeding a racehorse Polo mints and it knocked the sweets out of her hand. She bent down to pick them up and her earpiece and mic fell out when she was live on air.
She told us that her favourite interviewer is Clare Balding, because she asks unusual questions that make you curious and she asks them in an everyday way like she is having a conversation.
Sally told us about how her career started. She began on her local newspaper and then she went to her local BBC station where she was given a job for six weeks but stayed there for two years.
When we asked her what was her best bit of career advice, she said: "Always say yes [to opportunities] - you never know what might happen."
We also visited the North West Tonight studio where news editor Jim Clarke gave us a talk and a tour.
He told us that his job was to be across all the stories and to plan ahead, but he never gets "the glory of being on air".
North West Tonight and Breakfast share the studio and we got the chance to sit on the famous red sofa.