Q&A with YSPOTY 2012 winner Josef Craig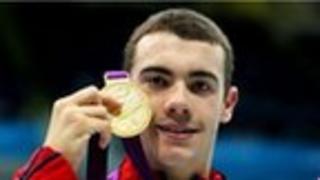 Josef Craig capped a tremendous year when he was named the BBC's Young Sports Personality of the Year for 2012.
Josef, a swimmer competing in S7 category events, was 15 years old when he became the youngest Team GB gold medallist at the London 2012 Paralympic Games.
Josef made his international debut at the Games and he marked the occasion by breaking the world record in the qualifying rounds of the S7 400m freestyle, before lowering that time again in the final.
His performances followed two gold medals at the British International Disability Swimming Championships in Sheffield in April, as he claimed victory in the men's youth multi classification 100m and the men's youth multi-classification 50m freestyle.
Here, Josef answers the questions set by the BBC News School Report team from Farringdon Community Sports College in Sunderland.
JOSEF CRAIG Q&A
Q: Who has been the most influential figure in your life?
A: Ken Nesworthy, my former coach.
Q: What sacrifices do you make on a regular basis?
A: I don't feel like I make sacrifices - I'm doing what I love.
Q: Who is your biggest rival?
A: Within Team GB - Jonathan Fox.
Q: What is your favourite food and are you allowed to eat it?
A: Roast dinner, especially my mum's - and yes, I can eat it.
Q: What can't you live without?
A: My dog.
Q: What is your favourite music and does it help you to train or perform better?
A: Hip-hop, Eminem... And yes, it helps me to perform better.
Q: If you weren't doing the sport you do now, what sport would you be doing?
A: None, I just love swimming.
Q: When you were younger who was your role model?
A: Muhammad Ali.
Q: Where do you see yourself in four years time?
A: The Rio 2016 Paralympic Games, retaining my title and hopefully getting more medals.
Q: What is your view of sportspeople who take performance enhancing drugs?
A: I totally disagree with drug taking in any shape or form, especially to enhance your chances - it is shocking and wrong.