YSPOTY 2012 nominees: Jessica-Jane Applegate Q&A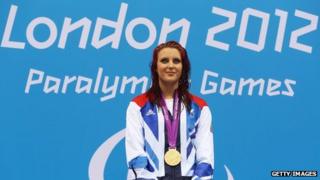 Jessica-Jane Applegate's superb year in the pool saw its highlight with her gold medal in the S14 200m freestyle in London, in a new Paralympic record.
THe 16-year-old's campaign at the Aquatics Centre also saw her finish fourth in the S14 100m backstroke, and she set a total of three Paralympic records.
Jessica has set 35 new British disability swimming records during the past 12 months and she has now been unbeaten for 18 months in the 200m freestyle in both multi-classification events and her own S14 classification.
Here, Jessica-Jane answers the questions set by the BBC News School Report team from Farringdon Community Sports College in Sunderland.
JESSICA-JANE APPLEGATE Q&A
Q: When you were younger, who was your role model?
A: Michael Phelps
Q: How do you balance training, education and social life?
A: My social life is friends at the pool; I have just finished school as I am now a full-time athlete.
Q: What sacrifices do you make on a regular basis?
I miss lots of family occasions. This year I missed my own school prom and my 16th birthday.
Q: How do you deal with setbacks?
A: I've had lots of setbacks. mainly injuries and undergoing surgery, but I just have to knuckle down and get on with it
Q: What is your favourite food and are you allowed to eat it?
A: I love all foods but Chinese meals & Ben & Jerry's ice cream are two of my favourites. And yes I eat them and I am allowed to (in moderation!).
Q: If you weren't doing the sport you do now, what sport would you be doing?
A: Synchronised swimming or I'd love to have a go at diving.
Q: What was your favourite subject at school and why?
A: Photography because there wasn't too much written work which I struggle with. I also won competitions for my work and my school has set up a gallery in my honour.
Q: What can't you live without?
A: My dog!
Q: What is your view of support via social networking sites?
A: I have lots of support on Twitter and I think it's great.
Q: What has been your sporting highlights of 2012?
A: Winning gold at London and setting three Paralympic records.