Kyle Edmund Q&A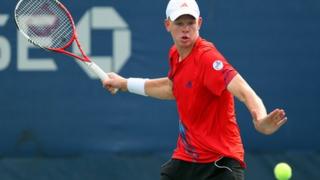 Britain's Kyle Edmund enjoyed a fantastic 2012, winning his first professional tournament and as well as capturing the title in the boys' doubles at the US Open.
In October, Kyle claimed the men's title at USA F29 Futures tournament in Birmingham, Alabama.
The 17-year-old's achievement came soon after winning the the US Open boys' doubles event alongside Portugal's Frederico Ferreira Silva in September.
Here, Kyle answers the questions set by the BBC News School Report team from in Sunderland after his nomination for the 2012 Young Sports Personality of the Year Award.
KYLE EDMUND Q&A
Q: How do you balance training, education and social life?
A: My training has always been a priority, whatever needs to be done will get done first before anything else.
Social life will come after that. I still love being around friends and family, but with all the travelling overseas it makes it very tough to fit in.
My education was very much a priority when I did it, but I have stopped going to school now.
Q: What sacrifices do you make on a regular basis?
A: Not seeing my family and friends as much as I'd like to is tough, and living four hours away from home doesn't help. This is a give-and-take situation though, so in life you have to make choices and this is the choice I have made.
Q: If you weren't doing the sport you do now, what sport would you be doing?
I am a big sports fan in general, but if I had to pick it would either be cricket or Formula 1. I love watching these sports and following them.
Q: What is your favourite food and are you allowed to eat it?
A: My favourite healthy food would be a home cooked beef stew made by my mum. My unhealthy food which I am not allowed to eat (but I do anyway) would be chocolate (Galaxy or Jaffa cakes).
Q: What was your favourite subject in school and why?
A: Apart from sport it would be maths, I enjoyed it and got good marks. This made me work even harder to get better grades.
Q: What can't you live without?
A: My phone is key, this is because I like listening to music and often, not travelling with it would be a killer. I also love my bed but unfortunately I can't travel with it, but if I could I would.
Q: What is your favourite music and does it help you train or perform better?
A: I like all kinds of music, on my playlist at the minute is Professor Green, Tinie Tempah, Maroon 5, Stereophonics, Jay-Z, Drake and lots more. I always listen to music when I'm in the gym, it helps me to get pumped up.
Q: Where do you see yourself in four years' time?
A: I would like to be playing on the tour and winning tournaments at the top level. My dream which hopefully I can make a reality is winning a Grand Slam and winning the Davis Cup for my country.
Q: When you were younger, who was your role model?
A: When I was around the ages of 9, 10, and 11 I loved watching Marat Safin because I found his game exciting. Since he retired I would say that my idol has been Andy Murray.
Q: What has been your sporting highlights of 2012?
A: My highlights of 2012 would be winning the US Open doubles, winning a Grand Slam is a great feeling. Also winning my first tournament at men's level is a great achievement to me.
Travelling with Greg Rusedski, winning a doubles tournament with Tim Henman and hitting with Andy Murray were also very special to me. These are all people I grew up watching and hopefully one day will fill their shoes.