YSPOTY 2012 nominees: Rebecca Tunney Q&A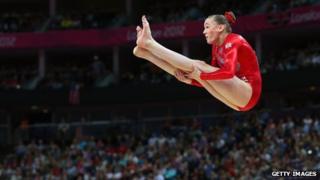 At just 15 years old, Rebecca was the youngest member of the 541-strong Team GB at the Olympic Games in London.
Rebecca, who won the British all-round gymnastics championship in her first year as a senior, finished 13th at the Olympics in the women's individual artistic all-round final and was also part of the GB women's all-round team which came sixth.
Britain's leading gymnastics star Beth Tweddle has praised her London 2012 team-mate for her ability and maturity.
"Rebecca is a huge talent for the future," said Tweddle. "To have competed at an Olympic Games at the tender age of 15 is a testament to just how talented she is."
Here, Rebecca answers the questions set by the BBC News School Report team from Farringdon Community Sports College in Sunderland.
REBECCA TUNNEY Q&A:
Q: What has been your sporting highlight of 2012?
A: I think the best moment was being in school and getting the phone call that I had made the Olympic team - that was amazing!
Q: Who has been the most influential figure in your life?
A: I think Hannah Whelan my GB teammate as she trained at my first club and then also trains at City of Liverpool so she has been alongside me and been able to give me advice along the way which is brilliant.
Q: When you were younger, who was your role model?
Definitely Beth Tweddle, who I have been lucky enough to train alongside, she is one of our greatest ever gymnasts and has been through so much and achieved so much.
Q: How do you balance training, education and social life?
A: I think I've just got used to not having the social life that some of my friends have but that's part of being a top gymnast. I've moved to a new school which is right next to my gym so that means I can spend more time studying which is great, I can then train in the evening and see friends and family at weekends.
Q: How do you deal with setbacks?
I know it's not always going to go perfectly every competition and you have to put the setbacks behind you and learn from them each time. Seeing people like Beth and being able to talk to them about how they cope with setbacks really helps.
Q: What was your favourite subject in school and why?
A: I've recently started studying media studies which is really different and fun, and also I think it's helpful as I work with the media more and more.
Q: What can't you live without?
A: Definitely my phone!
Q: What is your favourite music and does it help you train or perform better?
I like music like One Direction and Justin Bieber and yes - listening to it probably does help me as it puts me in a good mood.
Q: Where do you see yourself in four years' time?
A: Hopefully still competing having done the Rio Olympics but it's hard to say, anything can happen in sport so I try not to look too far ahead.
Q: What is your view of support via social networking sites?
A: I use social networks a lot as its great way to stay in touch with friends and family that I may not get to see that often. I've noticed on twitter, especially since the Olympics, that I'm getting lots more followers and people are being really supportive which is really nice and I try to interact with people as much as I can.