YSPOTY 2012: Students devise Q&A for young sport stars
13 December 2012

From the section

Home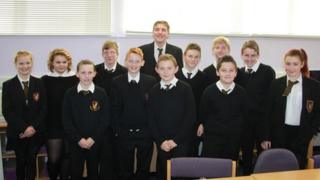 The top three candidates in the shortlist for this year's BBC Young Sports Personality of the Year award revealed some interesting facts about themselves when questioned by BBC School Reporters.
Paralympic swimmers Jessica-Jane Applegate and Josef Craig and Olympic Gymnast Rebecca Tunney are the three young sports stars whittled down from the original list of ten.
Coming at the end of a year of unprecedented British sporting success, this month's BBC Sports Personality of the Year event is sure to capture the imagination.
A combined group of 15 media students and sport ambassadors came up with questions to put to the original list of Young Sports Personality of the Year contenders.
The questions chosen by students from Farringdon Community Sports College were put to each young sportsperson to give people the chance to get to know more about them.
To get help for their task, the Farringdon pupils attended a masterclass led by BBC Sport journalists Martin Hamer and Elizabeth Hudson.
Quirky questions
Students completed an ice-breaker task during which they named their own Sports Personality of the Year, discussing the reasons for their choice - with Olympic gold medal-winning heptathlete Jessica Ennis a popular selection amongst the girls.
They were then asked to consider the basic principles of interviewing, and the importance of asking 'what, who, why, when, where and how' to get the best answers.
Armed with these principles, the pupils set about questioning the adults in the room: masterclass leaders Martin and Elizabeth, and teacher Miss McCulloch.
The exercise, while thought-provoking, had room for some lighter moments. Miss McCulloch faced quirky questions such as: "How do you feel every morning when you wake up, knowing you have to come to work?"
And Elizabeth introduced role-play into the mix - adopting the role of Sunderland manager Martin O'Neill.
Race against the clock
Students then formed smaller groups, with each group asked to come up with 15 questions, before returning to share them with the wider team.
The expectation was that many of these would be the same, but this turned out not to be the case - so with more questions than they needed, the team returned to the drawing board.
The smaller groups reformed, with the tricky task of choosing their best five questions to be part of the final Q&A.
The extra work meant that it was a race against the clock to finish in time - giving the students a taste of the pressures real journalist face in a newsroom!
And after their challenge was successfully completed, the Farringdon pupils told School Report: "We hope you enjoy the answers our questions generate from the Young Sports Personality of the Year finalists - good luck to all of this year's contenders!"