YSPOTY 2012 nominees: Georgia Hall Q&A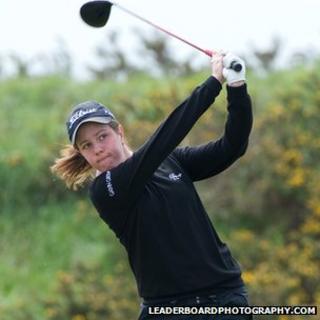 European number one Georgia Hall is one of Britain's most promising young golfers, with a superb treble of big wins under her belt at the age of just 16.
In May, Hall won the Critchley Salver at Sunningdale to add to previous prestigious victories in the Hampshire Rose and Roehampton Gold Cup tournaments.
Hall, also ranked fourth in the world, narrowly missed out on a place in the Great Britain & Ireland Curtis Cup team and made it to the semi-finals of the Ladies' British Amateur Championship.
Here, Georgia answers the questions set by the BBC News School Report team from Farringdon Community Sports College in Sunderland.
GEORGIA HALL Q&A:
Q: When you were younger, who was your role model?
A: Tiger Woods.
Q: Who has been the most influential figure in your life?
A: My dad has influenced me the most for golf.
Q: Who is your biggest rival?
A: Everyone I compete against.
Q: What is your favourite food and are you allowed to eat it?
A: My favourite food is a roast dinner and I am allowed to eat it, while my favourite snack is crisps and I treat myself to them sometimes.
Q: How do you balance training, education and social life?
A: Making sure I catch up with school work in the winter.
Q: What was your favourite subject in school and why?
A: PE and maths... PE because I love taking part in any sport and maths because I like all the rules you have to remember in order to get the correct answer.
Q: What can't you live without?
A: Golf and music.
Q: What is your favourite music and does it help you train or perform better?
A: My favourite music would be Michael Jackson and Chris Brown songs. It's not really something that helps me perform better but I like listening to it in my free time.
Q: Where do you see yourself in four years' time?
A: On the Ladies' European tour.
Q: What has been your sporting highlights of 2012?
A: Winning the British girls and ending up as European number one and world number four.