School Reporters show off their skills on BBC visit
16 November 2012

From the section

Home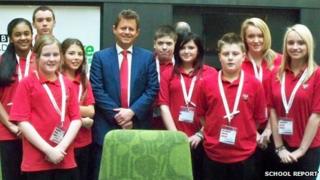 We visited the BBC 5 live studios on the first floor of Quay House at Media City.
We spoke to a senior broadcast journalist, Anne Stewart, about how it all works.
She told us fascinating facts such as how they switch from studios from London to Salford and explained how many people are involved in producing one live programme. Usually, there could be two presenters and up to six guests.
In the studios there are many cameras which move when speech is detected (handy, right!).
Maddison said: "I cannot believe we are in the studio literally minutes after Nicky Campbell was on air."
We also got the chance to see the BBC Sport studio.
The visit was spectacular - all the equipment was very modern and looked really professional.
We also got the chance to experiment with the high definition technology.
Afterwards, we interviewed the sports presenter, Mike Bushell.
Each enthusiastic individual had the opportunity to ask him questions about his life and career.
One of the best quotes was from Josh, who said: "It was breathtaking to meet such a celebrity."
Not content with celebrity, we were also unbelievably lucky to meet Blue Peter presenter Barney Harwood - he is such a nice person and is hilarious.
He puts a smile on everybody's face. He cares deeply for the children and loves being a part of Children in Need. He was going to get involved in a flash mob on the piazza at Media City a little while after our interview with him.
Barney said he had seen first-hand that the money for Children in Need was for an amazing cause.
On our journey around MediaCityUK, we also saw the Newsround studio.
We saw a gangnam-style preview, which wasn't going to be aired until 5.30pm, and we also saw the presenters Ricky and Leah.
We went into the gallery and saw the programme being broadcast.
Our trip to the BBC was amazing and one of the best bits was when we interviewed a teacher and some pupils from Lancesterian School - who are also on the School Report project! - and tasted the cake they had made for Children in Need.
We were invited to speak to Jackie Carter and some of her students, Maliha, Saima and Artur.
Then we went in and bought some of their cakes which they were selling for £1 each.
Danika said: "The cake was scrumptious and even nicer because it was in a great cause."
We hope they have raised lots of money and it was very nice to meet another School Report school.
There are about 40 people on Newsround with jobs such as producer, director, engineer and sound engineer.
In the bunker sits the assistant producer. It was a very interesting and informative visit and rounded off a great news day at the BBC!