International Education Week: Learning from around the world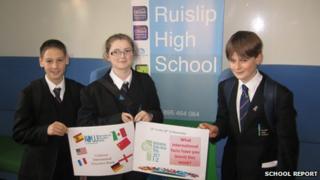 As part of Ruislip High School's bid to earn the highly coveted International Schools Award, from 12-16 November the school has been taking part in International Education Week (IEW).
This meant holding international-themed activities during lessons and learning about different cultures and countries and how they educate their pupils.
To raise awareness of the week, posters popped up around the school and tutors notified the students, and so when the beginning of the week arrived our lessons began to include starters and plenaries.
Even some whole lessons have had an international theme. These included Chinese multiplication in maths and kabaddi (a sport containing rough tackles, hand holding and a lot of shouting) which students have enjoyed greatly.
Charlotte found the sport really exciting. She said "I enjoyed kabaddi very much, playing and learning about a sport from Bangladesh that I had never heard of previously."
In language lessons some pupils who can speak another language took it upon themselves to educate other students in the class.
Abishek taught us Nepalese. We all had a good time learning some phrases from his language and thoroughly enjoyed practising it.
Hattie said: "I found Abishek's presentation very educational and fun, as it was funny to hear everyone's Nepalese pronunciation".
Other languages learned in these starters include Arabic, Polish, Punjabi, Gujarati, Albanian, Farsi, Albanian, Bengali and more! Many students have said that this was fun, and it helped them make links to other countries.
Other events this week have included a Year 9 assembly from our sixth formers who had a brilliant trip to Geneva last week to visit CERN and the LHC (Large Hadron Collider). This has really inspired us to visit CERN in the future!
We also had our first ever Spanish food club where we made paella and tortilla.
Thanks to IEW, we have made links to other cultures and it has been an eye opener to the world around us.
Ruislip High School is also partnered up with a school in China which we are going to commence a Climate Change project with, and another school in France, which sends students over to join our lessons for a day every year.
Our International Education Week has been a great success!
We wish the week to continue annually, and for the globally themed lessons to continue. In the words of Michael in Year 9, we really enjoyed IEW because "you get to find out all about the world".