School Report 2012-13: How to report on Children in Need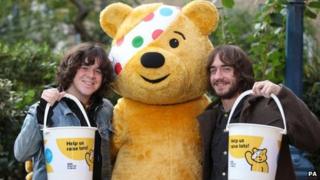 Schools all over the UK are raising money for Children in Need, the BBC charity which supports thousands of people aged 18 and under.
In the days surrounding Friday 16 November 2012, students will embark on all kinds of activities, whether it's baking cakes, running a talent contest or sponsored hopping on the spot! It's all in the name of charity - and having plenty of fun in the process!
Events like these can make great news stories of real interest to your local audience, so why not report them for your school website?
You could think about making it one of the stories you report on during the first of four School Report Practice News Days on Friday 16 November.
Here is a suggested framework to help you report on an event that has real relevance at every level from school to international:
TV, RADIO OR ONLINE?
First of all, decide how you are going to present your final report.
Are you going to make a video or audio report to play on your school website? Or are you going to publish a text-based report?
Make sure you have the equipment you need to make your report and the support of the relevant members of staff such as the IT technician, the web administrator or the school office.
You could also start to think about who in your reporting team is going to do what - some of the roles might include reporters, presenters, researchers, editors, camera and sound operators, depending on what kind of report you are planning to produce.
Why not check out School Report's guide to some of the different roles involved in reporting on TV, radio and online?
FIND OUT WHAT'S HAPPENING
Your next task is to do some research.
Check out our masterclass on finding news from BBC Radio 5 live journalist Karlene Pinnock for some great tips on the essentials of how to spot a good story.
And there is more advice, activiities and guides on our Finding News page.
Use these tips to find out about the Children in Need events happening at your school. Ask your classmates, your teachers and other members of staff and check the school calendar and diary. Read the notice boards and look out for posters around the school.
Find out what celebrities are doing and what fundraising activities are going on in the area by visiting the Children in Need website.
And what about other schools and organisations in your area? How are they raising money for Children in Need?
Check out your local newspapers, radio stations and BBC websites for the latest information.
Another angle you might want to investigate is to find charities or projects in your local area which have benefited from money raised by Children in Need.
The clickable map on the Children in Need website will help you find out how the money has been spent in your local area.
Now you know what's happening and where, it's time to decide which particular events or stories you are going to report.
GATHER THE NEWS
Now you can begin to gather facts and opinions about the events you have decided to cover.
School Report's explains and demonstrates some of the key skills when it comes to this part of the process.
Try to find out the answers to the five 'W' questions:
•What's happening?
•Who's involved?
•Where's it taking place?
•When's it taking place?
•Why are people taking part?
As Children in Need is all about doing unusual things to raise money for charity, three good 'How' questions to ask are:
•How do/did you feel?
•How much money is being raised?
•How will the money be used?
As well as gathering words (either written or spoken), remember to gather images (either still or moving) and sound effects.
WRITE THE STORY OR SCRIPT
Once you have gathered facts and opinions, words and pictures, you are ready to plan and then write your report.
Our writing news section is full of top tips, for writing your reports, whether they are video, audio or text-based.
You could also watch BBC Breakfast reporter Tim Muffett's masterclass on how to write a great script.
You could start by describing the event to someone else before you begin writing. That way you can check whether they understand you.
It also means you can change the report in your head before putting pen to paper, which saves time.
If you don't know how to start your report, leave the opening sentence until last.
Start by writing what happened in the order it occurred. With a few tweaks, you can use this for the body of your report.
Once your pen or keyboard is flowing, you'll recognise the key facts. Now you can incorporate them in one sentence at the beginning.
Add an end sentence about what is likely to happen next, and the first draft of your report is complete.
Double check your facts, including spellings, locations, times, dates and so on. If you're not sure about something you've written, ask. If you're still in doubt, take it out. The last thing you want to do is give people the wrong information.
Read your report out loud. Getting tongue-tied is a sign you need to swap the complicated words for simple ones. Make the necessary changes.
Ask someone else to read your script or story. Take their comments on board and alter your script or story accordingly.
ASSEMBLE THE WORDS AND IMAGES
Once the words have been written, you can add the images and sound effects you gathered.
Sometimes this might mean you make some changes to your script or story - if the audio interviews or pictures make the same points as you are saying in your script, you might want to alter things to avoid repetition.
RECORD YOUR REPORTS 'AS LIVE'
If you are making TV or radio news, you are now ready to record your reports as if you were standing in front of a live audience.
Rehearse first, so your reports sound and looks as good as they possibly can when you are "live on air".
Read some of the top tips from our broadcasting news page to find out how the pros do it at the BBC.
And try watching the masterclass video from 60seconds presenter Sam Naz which shows you some of the tricks of the trade.