Peanut allergies: Why are allergic reactions on the rise?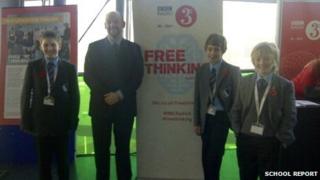 Fish, milk, wheat, cheese and even peanuts... allergies surround us every day.
For some people these things could cause a life-threatening reaction and allergies were one of the many topics to be discussed at BBC Radio 3's Free Thinking Festival at The Sage Gateshead.
Matthew Smith, a medical historian at Strathclyde University, gave an interesting talk on peanut allergies.
He covered many points, including the history of allergies and how views towards allergies have changed; the banning of peanuts in public places; and the increase and possible causes of peanut allergies, even going on to say that our current environment may be too clean!
After the session we were able to ask Matthew a few questions.
We wanted to know why there has been such an increase in peanut allergies and whether we are too clean in our current environment to build up our immune system.
"There are many different factors that come into play, including, more visits to the doctor and more vaccinations and more people should be involved in trying to find out the cause of the allergies," said Matthew.
He added: "Maybe there are too many cleaning chemicals in the air but we don't want to go back to the 19th century when many people died."
We asked a few people who were attending the event, would they give up their favourite food if it caused an allergic reaction to other people.
Most people were willing to give it up but they would be sorry, with one person saying: "I would be devastated - but if I had to I would."