Practice News Day: Students ready for our February rehearsal
27 January 2014

From the section

Home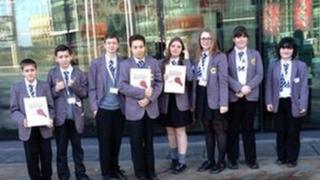 The fourth, and final, Practice News Day of the 2013/14 academic year is on Tuesday 11 February, coinciding with Safer Internet Day 2014 - which this year has the theme, "Let's create a better internet together".
After three successful days in November, December and January, students and teachers now have one more chance to prepare for News Day on 27 March.
School Report will run a live text commentary page all day to keep people up-to-date with all the reporting going on in classrooms around the UK and we will arrange to contact your school for the latest news if you sign up for the project.
Even if you don't have anything specific to report on, Practice News Days provide a great opportunity to brainstorm some ideas, research stories and possible interviews or try out some technical skills ahead of News Day!
What you report on is entirely up to you. If you don't know where to start get some ideas by watching the Finding news masterclass.
There are plenty of news events going on in February which may interest you.
Practice News Day, which is also this year's Safer Internet Day, offers the opportunity to focus on both the creative things that children and young people are doing online, as well as the role and responsibility that all stakeholders have in helping to create a better internet.
Meanwhile, the world of music is gearing up for the Brit Awards on 19 February.
On 6 February the Winter Olympics get under way in Sochi, Russia (until 23 February), the Six Nations tournament continues and the FA Cup reaches the fifth round stage.
Don't forget things going on right on your doorstep are worth reporting too!
Are there any events being held in your school or local area you may want to cover? Why not do some planning with your students and create your own school Planning Diary to help think ahead to future reporting opportunities.
Whatever your students' reporting plans are, either use the time to research and develop their ideas further or, as with News Day in March, work to a 14:00 GMT deadline to create video, audio and text-based news before publishing it on your school website by 16:00 GMT.
Don't forget that to be involved in February's Practice News Day, schools need to have returned at least one of the forms needed to take part in this year's School Report.
Planning to take part?
Please let us know by contacting the School Report team or using this form, stating which Practice News Day date in the comments field. We will contact you to find out what you are up to on the day and give you a mention: