Teacher resources: How to write live event pages for news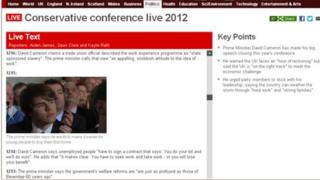 Victoria King has written live event pages for BBC News on a wide variety of topics, including the papal visit, the political party conferences and the 2010 election night.
So if you want to your school to use a live event page, here are Victoria's top tips for running a live event page that keeps your audience coming back for more!
1. Keep the entries short and snappy. If there's a good quote, get it at the beginning so it's the first thing people read - it will help draw them in. In quieter times, entries a couple of sentences long are fine, but when there's something actually going on - like an important speech - the faster and shorter the better. It's much more important to keep the information flowing than worrying about it being finely crafted prose!
2. Try to keep it entertaining. Obviously some things aren't (and shouldn't be!) light-hearted but you can definitely sneak in a bit of personality and humour. We occasionally write entries in the first person because there is a byline on the story and readers are aware they're following the work of an individual journalist.
More straightforward news/quotes entries can be livened up with some more colourful ones - politicians' tie choices are a favourite, but things like the music used at party conferences (which is always meant to reflect the party's message) and funny/quirky incidents help to keep the page interesting.
3. Don't assume your audience have read the whole page. Work on the basis that they've just arrived at the page and need to understand straight away what's going on. So don't refer to something vaguely that you explained several hours ago.
4. Try to put things in context. When a politician says something, try to think about how that fits with other things they've said before on the subject - or that other people in the party or their opponents have said.
Recently, for example, the Chancellor George Osborne praised capitalism in his conference speech - but only a couple of weeks ago Vince Cable, his cabinet colleague, attacked it. It all adds to the audience's understanding of the issue.
5. Try to get the broadest range of views into the page as possible. For politics, it's politicians of all parties, including the smaller ones if you can get them, newspaper commentators, bloggers, ordinary people: whoever has interesting views that you think are worth highlighting. We hunt around newspaper websites and other blogs, listen to TV and radio (both BBC and other outlets), take email comments from the public and so on.
6. Link to other material. We link out from entries to material both inside and outside the BBC. Inside, it could be a good feature or analysis piece, especially if it's by a well-known and trusted person like Nick Robinson or Robert Peston. Outside, it could be an article or blog, or a detailed source of information - say a report that's been published in full online.