Teacher resources: Activity - How to decide on the 'top line' (10-60 mins)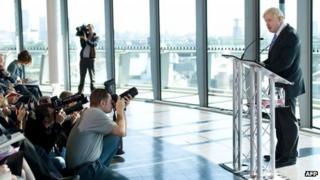 When coming up with a story, it is important to identify the most important or interesting aspect of it - this is known as the "top line".
Whether the report you are creating is in text, audio or video, it is important to consider the "top line" of the story because this is what will draw readers, listeners and viewers in.
Check out School Report's guide to picking a top line and then try your hand at this activity.
Below are a series of interviews with various high-profile figures from the worlds of sport, politics, science and entertainment taken from the BBC Sport and News websites - but with the headlines removed!
Choose a clip (or clips) to watch and make notes as you watch it. What do you think should be the top line for your clip?
What headline would you use at the top of the story if you were the BBC journalist writing the webpage?
Fill out this worksheet to help you make your judgement about the best top line:
Worksheet: Deciding on your 'top line'
[8 KB]
VIDEO MATERIAL
CLIP A:
Video: Roy Hodgson interview (4 mins 32 secs)
CLIP B:
Video: Boris Johson interview(1 min 49 secs)
CLIP C:
Video: Dizzee Rascal interview (6 mins 15 secs)
CLIP D:
Video: Stephen Hawking interview(3 mins 20 secs)
CLIP E:
Video: Clarke Carlisle interview (3 mins 23 secs)
CLIP F:
Video: Andy Murray interview (6 mins 32 secs)
CLIP G:
Video: David Moyes interview (2 mins 43 secs)
CLIP H:
Video: Ed Sheeran interview (56 secs)