Teacher Resources: Activity - Guess the audience (10 mins)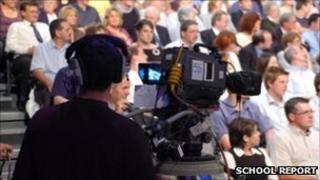 Look at the front pages of the BBC News, BBC Local News, Newsbeat, or CBBC Newsround websites.
Guess the age of the audience for each, commenting on the choice of news topics, formality of language, layout etc.
Now think about your own reporting for School Report and try to answer these questions.
1. What is the age of your audience on School Report News Day? That's when you will be making the news for real and publishing it on your school website.
2. Given your audience, are there any stories you would avoid reporting or think very carefully about how you report them?
Lots of factors are involved in deciding which stories to report and how to cover them, including whether they are appropriate for your audience.
An upsetting crime story which is suitable for viewers of Newsnight at 10.30pm could be totally inappropriate for Newsround's much younger audience at teatime.
In addition, there are legal issues to consider: ongoing court cases are extremely tricky and BBC court reporters undergo training to guard against the risk of breaching contempt of court laws. This is a serious offence and can lead to heavy fines and trials collapsing.
Without hard facts, celebrity gossip can be nothing more than rumour and is usually best avoided.
There is also the potential to damage somebody's reputation unfairly, raising the prospect of a libel action - and repeating somebody else's story is no defence in the eyes of the courts, which can issue large fines.
Look again at your answer to question 2. Having read the information above about reporting regulations, would you add to or change your answers?