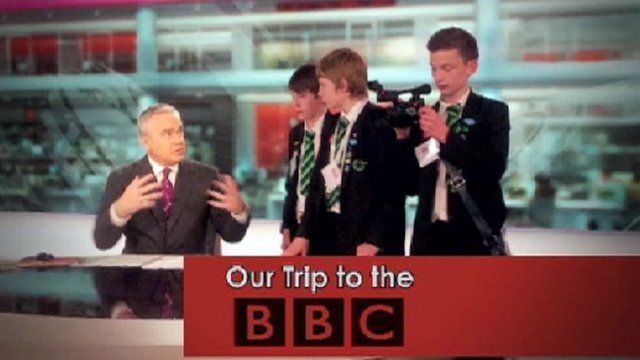 School Reporters explore BBC Television Centre
19 September 2012 Last updated at 13:53 BST
BBC School Reporters Lewis, Daniel and Sam from Catmose College in Rutland were lucky enough to have the opportunity to explore the BBC Television Centre for themselves.
The pupils were given a guided tour by their mentor Jim Buchanan, and were able to explore studio one, which has been home to a host of famous programmes including Strictly Come Dancing, Children in Need and Blue Peter.
They also tried their hand at weather presenting in front of a green screen at the Weather Centre, as well as going behind the scenes at BBC News and seeing the research that goes into the stories we see at home.
Huw even invited the young reporters on set during a live broadcast, explaining that even for News presenters, it's very important that you "do your homework" if you want to avoid being caught in a "sticky situation!"